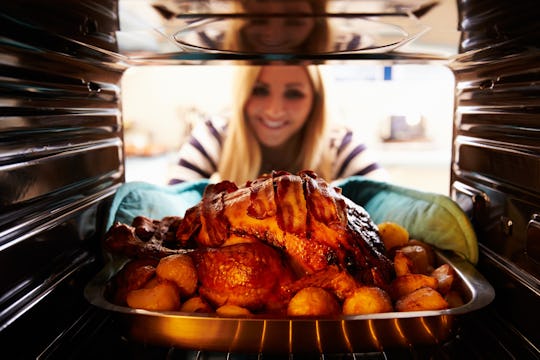 9 Life-Changing Thanksgiving Hacks To Save Your Sanity On This Stressful Holiday
Whether it's your first time running the Turkey Day show or you're a veteran hostess who wants to cut down on prep time, Thanksgiving hacks are a must-have come holiday time. These shortcuts can help keep the meal prep quick, easy, and efficient, while still producing delicious results. After all, Thanksgiving is about spending time with loved ones not waiting for the water to boil.
By implementing a few simple Thanksgiving hacks, you will have time to make fluffy stuffing, tasty turkey, and plenty of pies to please your guests without sacrificing your sanity. Some of it involves cutting back where you can (is a whole turkey really necessary for just three people?) as well as doing some prep work before the big day (you know you could set up the centerpieces the night before.) Overall, these tips will help you serve up a totally delicious meal without a lot of sweat and stress. So go knock out that turkey and get ready to make some holiday memories with your closest friends and family. This could be your best Thanksgiving yet. And remember — in the worst case scenario, you can always just order a pizza.