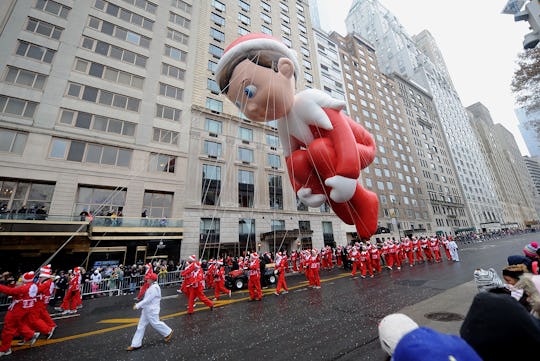 Brad Barket/Getty Images Entertainment/Getty Images
9 NSFW Elf On The Shelf Positions That You Don't Want The Kids To See, But Will Crack You Up
Soon it will be time to string up lights, decorate a tree, and bust out the Elf on the Shelf. If you're still all elfed out from last year, don't worry. There are plenty of inappropriate, NSFW Elf on the Shelf positions that'll get you through the holiday season with a few laughs. Hey, even Santa's very best helpers need to let loose now and then.
Although it's a newer tradition, Elf on the Shelf has taken on the holiday season by storm. An Elf on the Shelf box set ($30, Barnes & Noble) comes with a storybook about scout elves who report children's behavior back to Santa, as well as a plush elf toy. Parents are encouraged to put the elf in a new spot around the house every morning during holiday season, so it looks like Santa's little spy is really keeping an eye on the kids.
The sweet, simple concept took off life wildfire: following its launch in 2005, the company has sold over 8 million copies of the Elf on the Shelf book and toy, according to CNBC. Now you can buy all sorts of accessories for the elf, from costumes and outfits to pets. Plus, the cultural impact of the little scout elf is still felt. Tons of creative elf on the shelf poses, such as the ones suggested on this list from Buzzfeed, give parents ideas on clever ways to pose the elf each day. Maybe he strikes up a game of Connect Four with Lalaloopsy, or naps on a bed of marshmallows. Many families enjoy his adventures as a bonding activity.
Not everyone is totally enamored with the Elf on the Shelf phenomenon, however. For instance, Kate Tuttle of The Atlantic critiqued the way Elf on the Shelf co-opted the idea of tradition for the sake of consumer sales. In addition, David Kyle Johnson of Psychology Today argued that the Elf on the Shelf is basically a trick parents play on kids for a month or so, which may even lead to issues with trust or critical thinking later on. But the most common complaint is echoed by Alyssa Loring of Good Housekeeping, in which she calls Santa's little helper "generally creepy." She and her fellow elf critics have a point. Under any other circumstance, a small humanoid creature spying on your children at all hours would be cause for major concern, if not outright terror.
So whether you love it or loathe it, the Elf on the Shelf does not appear to be going away any time soon. To help maintain your sanity this holiday season — and lightly antagonize the whole elf trend — get some laughs from these wildly inappropriate scenarios. Just don't let the kids see these scenes.