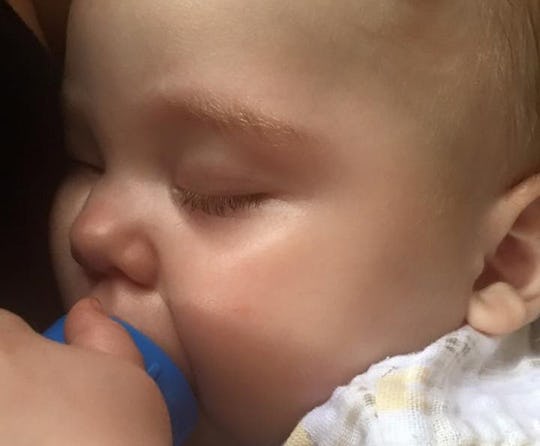 Courtesy of Steph Montgomery
9 Parenting Lessons Every Mom Learns When She Combo-Feeds
If I'm being absolutely honest, I have to admit that my first three months of motherhood were horrible. I didn't make enough breast milk and, as a result, my daughter got terribly sick. So I felt like a failure right out of the gate. Then, when my second child was born, I discovered combo-feeding, and honestly you guys, it changed everything. There are lessons every mom learns when she combo-feeds, and for me, they made all the difference.
I totally wish I had learned that breastfeeding is not an all-or-nothing thing, that formula is amazing, and that I didn't have to be solely responsible for feeding my baby sooner rather than later. I also wish that my desire to breastfeed exclusively didn't have to mean I felt like a bad mom when I couldn't. I now know that lots of moms are unable to exclusively breastfeed, undersupply isn't rare, and besides, my ability to lactate and dispense breast milk have literally nothing to do with my ability to be a good mom.
The second time around, I was able to ditch exclusive breastfeeding as a goal and re-define what "breastfeeding success" meant for me and my baby. I set realistic goals (which changed when life changed) and I discovered that combo-feeding was not only a great choice for us, but a way to share parenting tasks with my partner, get more sleep, and take care of my mental health.
When my youngest baby was born, I felt no shame about announcing my intentions to combo-feed him. I wish I had known it was an option the first time around because, honestly, it's so amazing.