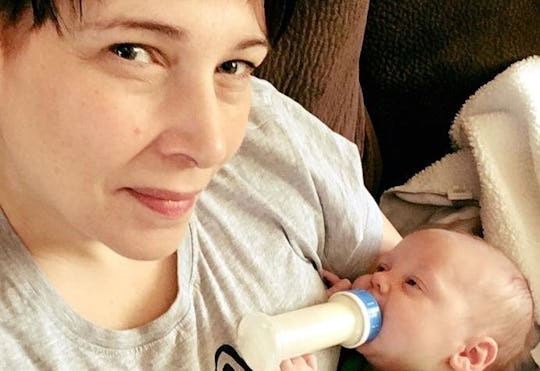 Courtesy of Steph Montgomery
9 Confessions Of A Breastfeeding "Failure"
In our culture's effort to promote exclusive breastfeeding, we seem to have forgotten that it's not easy, or even possible, for many people to do it. We tell moms-to-be all about the benefits of breastfeeding, but little to nothing about what to do if it doesn't work out. So, when you hit road blocks you end up blaming yourself and feeling like you've failed. This has to stop. In fact, I think it's time I reveal some confessions of a breastfeeding failure. I want other moms to know they aren't alone, and that not being able to successfully breastfeed doesn't mean you've failed at motherhood. It just means you're normal and breastfeeding is freaking hard.
When I had my first baby and didn't make enough breast milk, I blamed myself. I struggled with depression and self-hatred because of what was and wasn't, coming out of my breasts. I had one job — feed the baby — and I totally sucked at it. It never occurred to me that I wouldn't be able to produce enough breast milk to feed my babies. Literally everything I read about breastfeeding said that undersupply was super rare and not something most new moms have to worry about. It turns out that undersupply is far more common than I was told, and lots of moms aren't able to breastfeed exclusively, even if they want to. Besides, breastfeeding "success" involves a lot more than the physical ability to lactate. As a nursing mom you need a baby who's able to latch, parental leave, a supportive partner, mental and physical health, energy, time, nutrition, hydration, and guidance.
If you set the bar at "exclusive breastfeeding," most moms are going to "fail." But if you let new moms define their own version of success, based on their abilities, goals, and desires (which might totally change once they are actually, you know, breastfeeding), everyone will have their own version of infant-feeding success. And that, according to this breastfeeding "failure," is a beautiful thought.