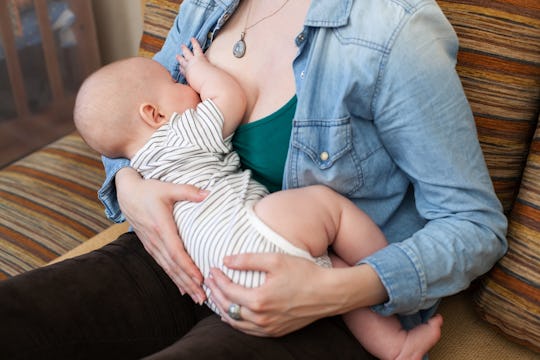 Fotolia
It's Perfectly OK To Say "Breast Is Best"
When I first started breastfeeding, I had no idea an innocuous statement like "breast is best" could upset another mother. That was, of course, until a monumental argument erupted within my group of mommy friends. Despite the showdown, however, I still believe it's perfectly OK to say "breast is best."
My experience of breastfeeding started off with a multitude of problems, including latching issues, low supply, having to be (what felt like) permanently plugged into a breast pump, and eventually ending with (what turned out to be a necessity) supplementing with formula. However, never during any of these trials did I dispute the term "breast is best" because, well, it's just kind of a fact. Breast milk is superior to formula, and in a multitude of ways that I think are important to remember. It's a totally natural product, designed for your individual baby, can change based on your baby's needs, is (almost) completely nutritionally perfect, is portable, always at the right temperature, needs no preparation, and is pretty much free of charge.
Of course, I don't think there is anything wrong with formula (after all, I gave it to my own baby) and I would never judge a mother for ever choosing formula. And, of course, I would never tell a mother that she absolutely needs to breastfeed, regardless. There are so many instances in which breastfeeding is not the right thing for a mother or a baby, including but certainly not limited to: when the mother is a sexual assault survivor and breastfeeding is triggering, when the mother cannot produce enough milk to sufficiently sustain her baby, when the mother physically cannot breastfeed at all, and when the mother straight up just doesn't want to. At the end of the day, it's the mother's body so it is always the mother's choice. Always.
No-one should ever be shamed for the decisions they make regarding their own child's health, and breastfeeding will always be a personal decision the mom has complete control over. However, what's so wrong with saying, "Breast is best, but I choose to formula feed and I am happy with my decision"? Why, in order to feel better about our decisions, do we need to tear down the decisions of others? Just because one choice is optimal, doesn't make the alternative harmful.
For me breast is best, but formula is an acceptable alternative that comes a close second and is a very important, very necessary, very vital necessity for so many women. So, with that in mind, here are just a few reasons why it's perfectly OK to say breast is best. You're not shaming other mothers. You're not judging other mothers. You're just stating a fact, while supporting all mothers in whatever personal decisions they make.