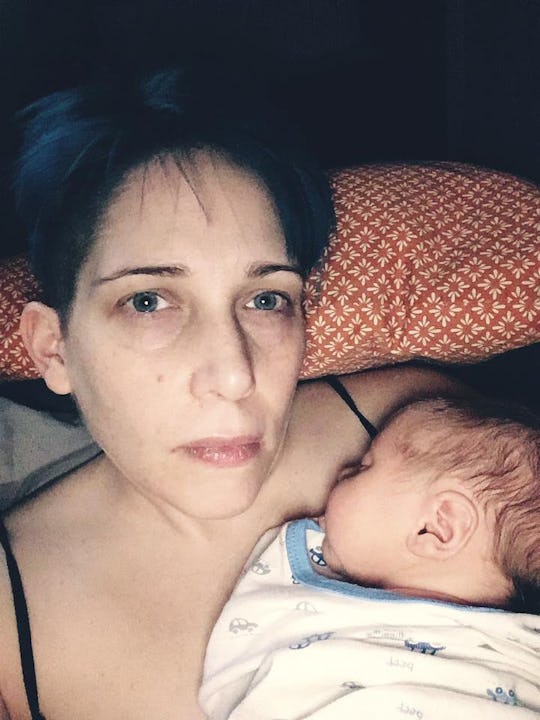 Courtesy of Steph Montgomery
People Who Will Make Or Break Your Baby's First Day At Home
My baby's first day home from the hospital was both one of the best and worst days ever. I was so relieved to finally be home with my newborn, but I was also exhausted, tired, and scared out of my mind. I didn't know what I was doing and, as a result, questioned everything... including my ability to be a mom. Then I learned that there are people who can make and break your baby's first day home from the hospital, and realized that for better or worse I was not alone.
Like, for example, my mom. When I brought my daughter home from the hospital, and she was up all night breastfeeding and screaming, my mom calmly recommended that we give her a little formula and call the lactation consultant for help. Little did I know that our rough first day at home was a direct result of my baby not getting enough to eat. While I took care of my daughter's needs, my mom pretty much took care of me, which is just what I needed when I was recovering from childbirth.
There's also the hospital staff. While I didn't actually bring them home with me, having the staff prepare me for my return home made a huge difference; a lesson I learned after my second baby was born. Before I left the hospital with my first child in my arms, I didn't receive what I thought to be an adequate amount of information. In fact, all I was given was a one page sheet of discharge instructions. After my second baby was born, though, I pretty much demanded that my baby's doctor, nurses, and lactation consultant send me home with information on how to know if my baby was getting enough to eat, and instructions for how to get help if he wasn't.
And that's, honestly, just the beginning of the list of people who will end up directly impacting your first day at home with your new baby. From wannabe visitors to neighbors to everyone in between, it won't take long for you to learn that the whole "it takes a village to raise a baby" thing isn't hyperbole, but an accurate representation of life as a new mom.