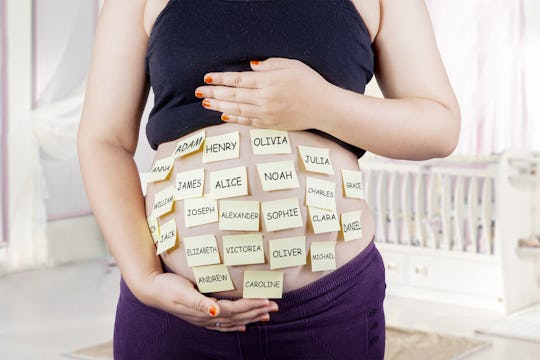 Fotolia
9 People Whose Feelings You Shouldn't Feel Obligated To Consider When Naming Your Baby
Naming a baby is serious business (just ask any parent-to-be). Many of us go so far as to ready baby naming books and do our research and make potential lists and mull over the possibilities until we find something that feels absolutely right. Many of use forgo any decisions until after we see our baby, because naming someone you haven't met yet can be pretty hard. Then, of course, others look back into their family history for a bit of inspiration and consult baby naming apps to figure out what to name their child. However you find the name you think is best, is entirely up to you, but there are people whose feelings you shouldn't feel obligated to consider when naming your baby. After all, it is your baby.
My husband and I chose not to tell anyone our name possibilities, in part to avoid the judgements and also because we are horribly indecisive and didn't actually settle on a name until a few days before our son was born. Now that our son is here, all we can do is introduce our son and hope people don't feel inspired to share what they think. In the end, people are going to have opinions about, well, everything that has to do with your parenting. The best you can do is do what works for you, your baby and your family. The rest? Well, the rest is just internet fodder.
Like almost every other parenting decision you will make, when choosing a name for your baby, the only person whose opinion should matter is your own (and, depending on your circumstances, your co-parent). These next nine people, though? Yeah, feel free to ignore them and move on when they try to spout some hate about your baby's name.