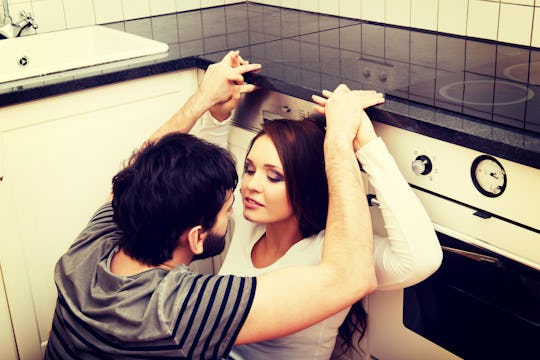 Piotr Marcinski/Fotolia
9 Places In Your House To Have Quickie Sex, Because The Bedroom Isn't Always An Option
Quickie sex is one of the best ways to get it on with your partner, and for a variety of reasons. It's hot, it feels a little forbidden, and it can bring you and your partner closer than ever before. Not to mention, you can do it pretty much anywhere. There are tons of places to get it on, but knowing some places in your house to have quickie sex means you don't have to get too adventurous to enjoy the passion a quick romp brings.
As Women's Health noted, there's no rule that says quickie sex has to involve penetration. Oral sex or even manual stimulation can go a long way, especially when you only have a few minutes to get it on. If you're a parent, quickie sex may have a whole new meaning to you — like keeping it as quick as a seven minute YouTube video — but that doesn't make it any less fun. Although sex with tons of foreplay and time is necessary, it's just not always possible in your busy schedules. You work, you have kids, you need to clean the kitchen, you have to make dinner, you have to answer emails, and damn it, you want to sleep. That's where a quickie can give you and your partner what you want (or at least hold you over until you get some more time) while still being super hot and fun.
So take note of these nine places to get it on with a quickie in your house. Even if you have all the time in the world, there's something really sexy about grabbing your spouse for ten minutes alone before you go back to your day.