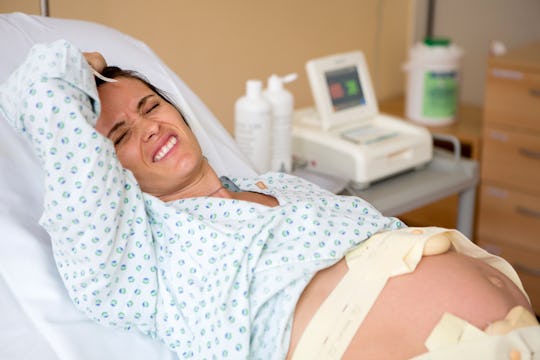 Shutterstock
These 9 Birth Issues May Seem Shocking, But Experts Say They're Totally Normal
Giving birth can be a daunting experience for any woman. Whether it is your first time to give birth or you're basically a pro, the complications that can arise may be different from one labor and delivery to the next. Everyone will have a different birth story, and the complications that you could encounter may seem scary, but the joy you'll experience after it's all said and done will make it worth it. These nine problems that can happen during birth seem shocking, but are actually normal are just a few things you might encounter when it comes time to meet your new baby.
In order to ease fears when it comes to understanding these issues that might arise during birth, Jenn Simms, a doula practicing in Austin, Texas, tells Romper that preparation is key. "I always suggest to do your research and look at all of your options. Get a plan that works for you and your birth partner and stick to your plan as long as it's medically safe," she says. Her most vital piece of advice for birth — "Listen to your body because no one knows what you're feeling but you."
If you are worried about pooping on the table, experiencing a perineal tear, or pushing for hours on end, you can rest assured knowing that you are in good company with the many women who also experience these totally normal (albeit, scary) birth issues.