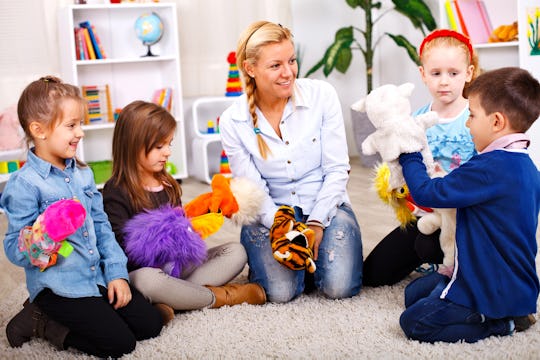 Svetlana/Fotolia
9 Things To Ask Your Child's Preschool Teacher On The First Day Of School
Of all the first-day experiences children have in their school careers, perhaps none is as exciting, nerve-wracking, and emotional as the first day of preschool. I know this doubly well: Not only did my own two kids survive that milestone day, but I've also seen the same scenario every year in my own classroom since becoming a preschool teacher five years ago. So I know that parents have lots of questions to ask their preschool teacher on the first day.
As each parent comes into the room, tightly holding onto their little one's hand, I know that they're torn between wanting to let go and wanting to turn around, run back home, and keep their baby close for just a little longer. Moms of crying or clinging children may start getting misty-eyed themselves, and I know without their saying a word that they want to ask: Will my child be OK? Should I stick around just to make sure? (The answers: Yes, they will, and no, please don't; the longer you stay, the harder it will be to help make the transition into class.)
The other question that parents secretly wonder is: Am I making the right choice sending my child to school so young? And for most families, the answer is yes. In fact, there's research to prove that preschool improves later academic performance in high-risk children (per Penn State), helps kids get better grades in high school (according to the University of Oxford), and improves children's language skills (per Boston College).
There are plenty of other things you'll need to know about the preschool experience. Here are just a few to keep in mind as you set out on that all-important day.