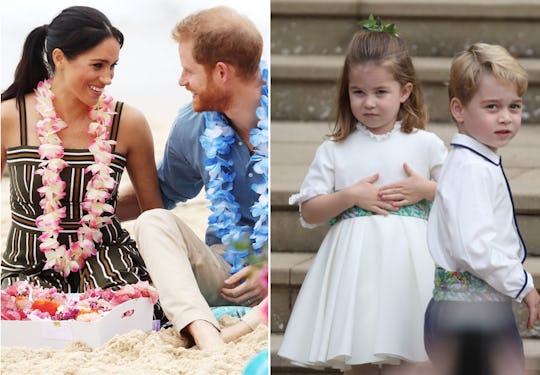 Chris Jackson/Getty Images Entertainment/Getty Images WPA Pool/Getty Images Entertainment/Getty Images
9 Reasons Prince Harry & Meghan Markle's Royal Baby Will Have The Best Cousins
The Duke and Duchess of Sussex are expecting their first baby, which means our natural obsession with the royal family can continue ad nauseam. I was worried that the wedding of Princess Eugenie and Jack Brooksbank might have signaled the end of a golden era of royal weddings and babies, but we were not let down. And the rest of the royal family has so much to look forward to — especially the kids. In fact, here are nine amazing reasons why Prince Harry and Meghan Markle's baby will have the best cousins in the world. Because I bet they're super excited, just like the rest of us.
As we all know, Prince Harry's older brother Prince William and his wife Kate Middleton are parents to three adorable children; 5-year-old son Prince George, 3-year-old daughter Princess Charlotte, and 6-month-old baby boy Prince Louis. This is good news for the baby Prince Harry and Meghan Markle are expecting spring 2019, especially in the royal family. Because it looks as though the royal cousins tend to be quite close; after all, Princess Eugenie married one of Prince Harry's friends, according to MSN, and the two of them were known to go out for a drink or two back in their swinging singles days.
So what will the future hold for this next batch of royal cousins?
Prince George, The Kind One
Prince George might be third in line to sit on the throne as the King of England, but he has a real heart of gold. Like when he comforted a crying little bridesmaid at Meghan Markle's wedding in May, as reported by In Style.
It's nice to have a soft touch for an older cousin, he'll probably let the baby get away with everything.
Princess Charlotte, The Sassy One
Sometimes a kid needs a cousin who will tell it like it is, and Meghan Markle's new baby will have just such a person in mighty Princess Charlotte. As proven when she told reporters, "You're not coming" into her baby brother's christening in July, according to People, she doesn't put up with sass. She just delivers.
Savannah, The Hilarious One
Savannah Phillips, the 7-year-old daughter of Autumn and Peter Phillips, will also be a cousin to the new baby. Which is great news because she seems to be able to make pretty much everyone laugh at everything. Especially at important royal functions.
Mia, The Natural
One of the newer baby's lesser known cousins is 4-year-old Mia Tindall, daughter of Zara and Mike Tindall, according to Town & Country. She was a bridesmaid at Princess Eugenie's wedding, and I think she's sort of brilliant. Because judging from the pictures, she was over all of the pomp and circumstance before it even started. Leading the way for the next generation of royal kids who are over it.
Prince Louis Will Have Loads Of Classic Hand-Me-Downs
We don't know much about Prince William and Kate Middleton's third child save this; I have a feeling Prince Harry and Meghan Markle's little one will get some sweet hand-me-downs from Prince Louis. Like good sweaters and such. After all, Middleton has always been great at recycling clothes, as noted by the Daily Mail.
Lots Of Wedding Party Buddies
The royal family has a longstanding tradition of including mostly young children in their wedding parties. Fortunately for the new baby, he or she will be able to learn from the experience of their older cousins. Because they've been around the wedding block a time or two.
Plenty Of Palace Playmates
The Duke and Duchess of Sussex count Kensington Palace as one of their residences, as do the Duke and Duchess of Cambridge, according to Harper's Bazaar. Which means the royal cousins will be able to roam the palace and play together without all of us watching them. And now I'm super jealous.
Schoolyard Back-up
It seems pretty far away, but when Meghan Markle and Prince Harry's little one goes to school down the road, he or she might have a schoolyard protector. If the baby attends Willcocks Nursery School, they might have Princess Charlotte in their corner, and if they go to Thomas's Battersea in London, they would have Prince George to back them up.
Family Holidays
The royal family always spends Christmas together, and it's apparently a big plus for Prince Harry and Meghan Markle. He told The Telegraph after Markle spent her first Christmas at Sandringham Estate in 2017 that she had an "amazing Christmas with the family she never had." Which means that their baby will grow up surrounded by loads of cousin love every holiday.
Which is probably the best thing about having a big, close-knit family at the end of the day, isn't it? Lucky baby.