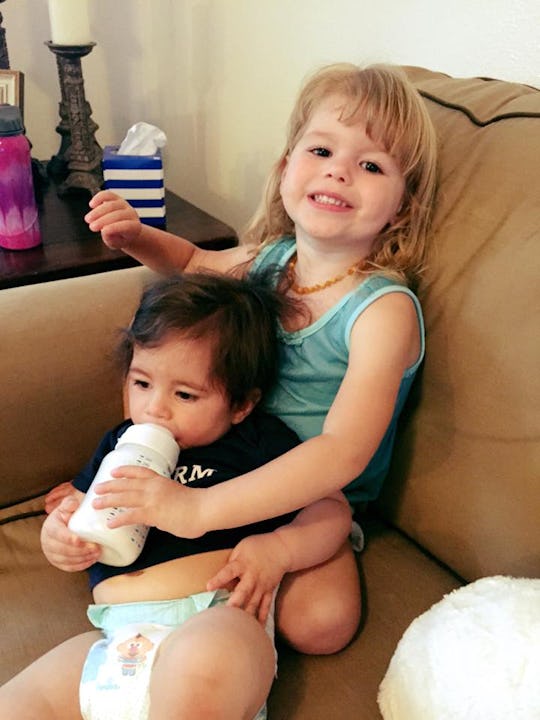 Courtesy of Danielle Campoamor
9 Reasons Why You Should Never Judge A Woman Who Feeds Her Baby Formula
While there are plenty of women who have experienced judgement for openly and unapologetically breastfeeding their kids, there are just as many (eh, arguably even more) women who have been judged and shamed for formula feeding their kids. It seems that, even in this year and at this point where it feels like we all know we're supposed to respect everyone's right to make different-but-equally-valid choices, if you're a mother feeding her baby by any means at all, you're doing something wrong.
Mothers who formula feed their babies are all-too-often shunned by other mothers who feel like if you don't feed your baby from your body, you're a selfish quitter. Even though a woman should never apologize for formula feeding her baby, numerous women are made to feel like they have to explain themselves and the parenting choices they make. Formula feeding moms are made to feel guilty because they didn't make a choice that other mothers have proudly made; a dangerous consequence of all parents just wanting to feel validated and supported in their personal parenting decisions. Moms who formula feed hear horrific, rude and honestly, untrue, things about formula and their choice to feed it to their kids. Everything from "you're poisoning your baby" to "you can't bond with your child," and for what? So mothers can continue to beat themselves up and feel guilty and become ostracized from a community that would benefit them, if it was just more inclusive?
Well, enough is enough. The truth is, there are multiple ways to feed a baby, and there are multiple reasons why a mother might choose to use formula instead of breast milk. All of these choices are valid, and all of these choices are something to stop and think about, before anyone even contemplates shaming a woman for not breastfeeding.
So with that in mind, here are nine reasons why you should never judge a woman for formula feeding her kid.