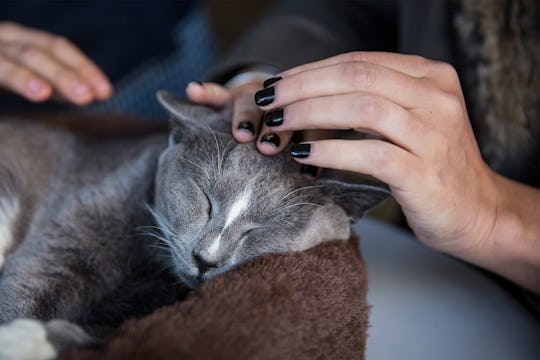 Andrew Burton/Getty Images News/Getty Images
Here's How To Tell If Your Cat Really Loves You (Not That You Ever Doubted It)
As I write this, my cat is sprawled out on my lap with her front legs outstretched (what I call her "Superman pose"), purring and sighing away. Before she finally settled down, she touched her nose to mine a couple of times, then started licking my hand vigorously (ow ow ow). It's not easy working this way, but at least I know these are signs that my cat loves me, and that's worth the slight inconvenience of a full lap and a hand missing a top layer of skin.
Don't let those dog owners tell you that their shaggy companions have the monopoly on showing affection to their humans, or that cats are unemotional creatures who just tolerate our presence in hope of a full food dish. Not so, says PetSmart's resident veterinarian, Jennifer Freeman, DVM. She tells Romper that although cats don't feel the romantic love we do, they still experience the release of the "love" chemical oxytocin in their brains when they're around the people they enjoy and trust. "Unlike dogs, most cats make you work a little harder for their affection, and they do not handle stress levels well, but both species are able to experience 'love,'" she says.
Cats also have a strong nurturing instinct that would put even the most helicoptering of human moms to shame. Think of all those sweet stories we hear about mother cats who "adopt" other baby animals — including this kitty who nursed a litter of hedgehogs, as covered by the BBC.
So what if our feline fur babies don't jump up on us or slobber our faces with kisses? They have plenty of other ways to show that we're just purr-fect (sorry about that) in their eyes. Do any of these sound familiar?