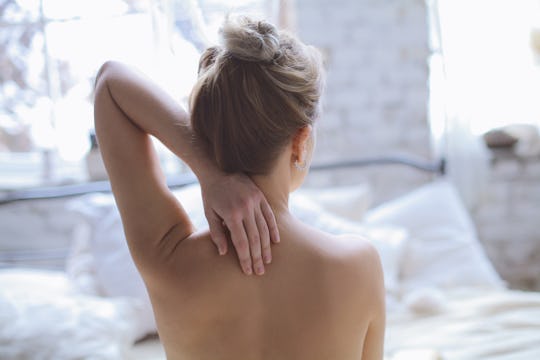 Shutterstock
9 Signs You're Sexually Frustrated In Your Relationship & How To Combat It
Even when you're relatively happy in your relationship, it can sometimes feel like something is missing... and that something is often sex. If your partner is great, but you're just not having the kind of sex you desire, then it's understandable if you feel a bit unfulfilled. But knowing the signs you're sexually frustrated in your relationship, and how to combat it, can put you both on the path to pleasure.
"In a relational sense, sexual frustration often occurs when one partner's sex drive is significantly higher, more robust than their partner's," explains Michael Moran, LCSW, an AASECT Certified Sex Therapist and the founder and director of The Center for Relational Fulfillment.
"The warning signs are many," he tells Romper. These include "vacillating between trying everything you can to court your partner and getting (or manipulating) them to respond to your advances" to "giving up and sulking in anger and pretense that you don't care" to "coercing them into trying new things" and then blaming them or labeling them "sexually defective" if those new things don't arouse them. Ultimately, he says, sexual frustration in a relationship can cause a person to rely on porn or other types of fantasy... and if the problem goes unaddressed, "infidelity can occur to manage the sexual disconnect/frustration/anger at feeling continually rejected."
The "antidote" to all of this, he says, is to sit down with your partner, "sharing from a deeply vulnerable place how difficult this is for you, that you're genuinely concerned for the welfare of the relationship, and that your sexual advances are not just about getting off but about connecting with them in a deeply meaningful way." Hopefully, this will lead to an "open-hearted dialogue" about what's going on with the two of you, and what to do about it.
It's true that maintaining a healthy sex level in any relationship can prove challenging. But it doesn't have to be impossible. Even if a few of these signs of sexual frustration ring true, there are plenty of steps you can take toward creating a more fulfilling, satisfying sex life. Read on to identify the warning signs that you need to work on making your relationship more sexually satisfying (and how to do it).
This article was originally published on