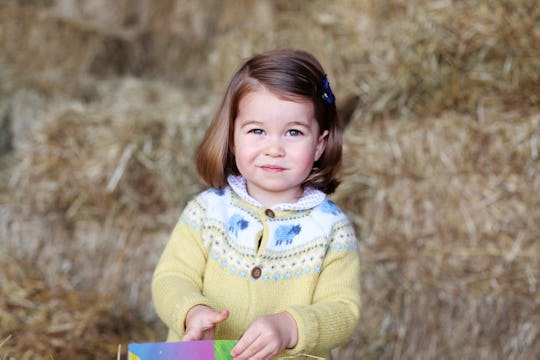 Handout/Getty Images Entertainment/Getty Images
9 Surprising & Totally Adorable Facts About Princess Charlotte
There are few kids in the world who kinda/sorta make me want another baby, probably because I had four already so that feels like enough. But little Princess Charlotte is one of those kids. I don't know if it's the little twinkle in her eye, her adorable face, or the underlying sense of cheekiness I get from her that gets to me, but it's something. She's only 3 years old and I'm already looking up surprising facts about Princess Charlotte because I can't get enough. And I know I'm not alone here.
The only daughter of the Duke and Duchess of Cambridge, she is surrounded on both sides by brothers. Big brother Prince George, who turns 5 on July 22, and new baby brother Prince Louis, who was born on April 23. Being the only girl in the family might be daunting to some, especially in a royal family where, traditionally, the role of the men tends to take precedence. All that was before Princess Charlotte.
Not only is she apparently more than capable of holding her own, she is also making history. She is the first girl to hold her place as fourth in line to the throne despite the birth of her younger brother (in the past, Prince Louis would have become the next in line), as CTV News explained.
So what do we know about this history-making 3-year-old?
1. Bilingual Baby
Princess Charlotte was already speaking some Spanish by the time she was 2, a royal source told People. Her nanny, Maria Turrion Borralo, is from Spain and it's a long-standing tradition for members of the British monarchy to speak at least one secondary language. So she's off to a swimming start. She'll have some catching up to do if she wants to match her father, though; as The Telegraph reported, Prince William can carry a conversation in five languages.
2. Forever At The Kids' Table
And speaking of conversations, Harper's Bazaar Australia reported that Princess Charlotte is not allowed to sit at the dinner table with her parents until she learns the "art of polite conversation." Apparently the Spanish thing wasn't enough to get her to the adult table, I guess.
3. Super Into Pizza
If you think a royal kid might have a more discerning palette than any other kid, think again. At a charity lunch in March, the Duchess of Cambridge said that both Princess Charlotte and Prince George love to make pizza together, according to People. I wonder if they can get it delivered to the palace if they don't feel like cooking?
4. Rules The Castle
This might be a bit of bad news for little Prince Louis, but even the Queen of England herself has said that Princess Charlotte is the boss, according to Vanity Fair. Queen Elizabeth was speaking to a mother at a charity event about whether her son looked out for his sister. When the mother replied it was the "other way around," the queen said, according to Vanity Fair, "It's the same with George and Charlotte."
5. But Doesn't Get A Tiara
Princess Charlotte might be royalty, but she apparently doesn't get to wear a tiara until she's married, according to Cheat Sheet. This rule applies to all members of the British monarchy; you don't get a tiara until you get hitched. Seems harsh.
6. Forget About Collecting Free Parking In Monopoly
If Princess Charlotte's great uncle Prince Andrew is to be believed, she can forget about collecting $200 for passing Go in Monopoly. That's because the royal family isn't allowed to play the classic board game. Prince Andrew was presented with a version of Monopoly at Buckingham Palace, according to The Telegraph, and reportedly said, "We're not allowed to play that game."
They're not missing much, that game takes forever and a day to finish.
7. She Makes Homemade Gifts For The Queen
Prince William said in a 2017 BBC One interview that his grandmother, the queen, can be tough to buy presents for, but he and his wife have a brilliant solution. According to PopSugar, he said:
It's quite hard to know what to get the Queen to be honest. Now we have grandchildren around they can make things!
8. Hold Me Closer, Tiny Dancer
Prince William, who seems adorably smitten with his daughter, told the Prime Minister of Malta during an official visit in March that Princess Charlotte "loves dancing." Earlier in August, the Duchess of Cambridge said that her daughter had started taking dance lessons and "absolutely loves it," according to Town & Country.
9. Peppa Pig Fan
Princess Charlotte's favorite show shouldn't come as a huge surprise... it's apparently Peppa Pig. When her mother was given a gift and card for the little girl during a visit to a farm in Gloucester when she was 2, she said she would especially love it because the card had Peppa Pig on it — and she just loves that show, according to You magazine.
That's the thing about little Princess Charlotte. She's already an interesting blend of unusual and down-to-earth. I wish we could be best friends.