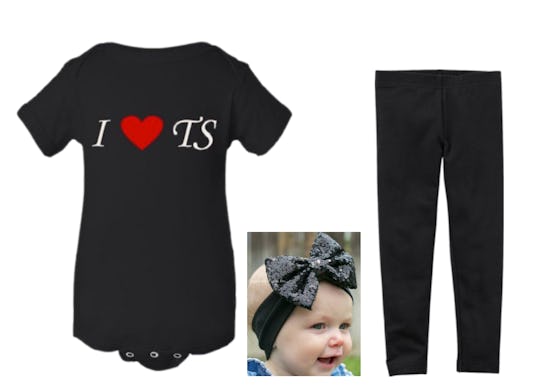 9 Taylor Swift "Look What You Made Me Do" Costumes For Babies, Because Newborns Can Totally Stan For TS
If you want a topical pop culture reference for your baby's Halloween costume this year, why not look to the Queen of Pop? The Taylor Swift "Look What You Made Me Do" costumes for babies are fun, topical, and adorable. Seriously: there has never been a better time to dress your baby in leopard print.
Although the song made its own impact, the video for "Look What You Made Me Do" has quickly become the stuff of legend among dedicated Swifties and more casual fans alike. In just over four minutes, the video examines Swift's past feuds using zombies, graves, a car crash, a bathtub filled with diamonds, and a whole cast of previous Taylor incarnations. It's a bold, mesmerizing video filled with subtle digs at past boyfriends, other artists, and her critics in the media.
Without a doubt, the video — which has nearly 560,000,000 views at the time of this writing — will inspire tons of adult Halloween costumes this year. But with a little creativity, these looks can be interpreted for babies as well. Basically? Snake Queen Taylor is for everyone. Because so many looks can be created from the "Look What You Made Me Do" imagery alone, any other costume might like to be excluded from the narrative this year.