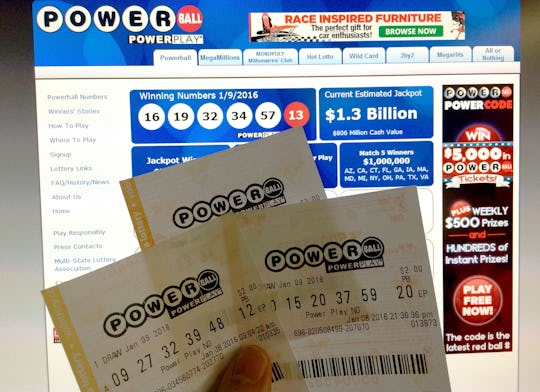 Karen Bleier/AFP/Getty Images
9 Things $1.3 Billion Could Buy, Because You Could Still Win The Record Breaking Powerball Pot
It's a brand new year, and while some are already working hard toward making sure 2016 is their most successful year yet, others are lining up for tickets for a faster route to riches. I'm talking about the upcoming Powerball drawing, which can earn you up to $1.3 billion if you've got the winning ticket this Wednesday. The jackpot started last November and has snowballed 19 times over, leading up to last Saturday's $900 million Powerball, the largest drawing to date. That's a serious load of cash. So what could you actually buy with $1.3 billion?
For comparison, the largest jackpot before this was $656,000,000 in March 2012's for Mega Millions. (Pocket change, right?) This recent jump into the billions will most certainly alter someone's life dramatically.
All this jackpot talk has got me wondering what sorts of things you can even get with that kind of money. Sure, you might've daydreamed in the past of having that kind of moolah, but having it in your bank account (or across several places because that's a lot of money to entrust in one single place) would surely be a different thing altogether. Maybe you'd hire yourself a bodyguard or two, as so-called friends and family (and even strangers) may harass you for your Powerball winnings. Or you might want to invest it in stocks and bonds or real estate (or all three). But if you think you'd rather just splurge it, here are some example of ways to spend, spend, spend.