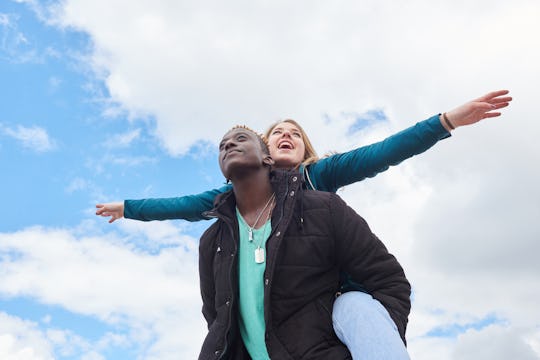 Fotolia
9 Things Every Grown-Ass Man Does When His Partner Is Suffering From Anxiety
It didn't take long for my partner and I to realize that we needed certain things from each other in order to make our relationship work. I needed him to understand that every Sunday I'd be watching the Seattle Seahawks, and he needed me to understand that he'd be watching his Green Bay Packers from another room. I needed constant communication and someone to support my career; he needed to open doors for me and be OK with him leaving rogue glasses around the house. What we didn't know, though, is that I would eventually need my parter to do all the things every grown-ass man does when his partner is suffering from anxiety, mostly because I never thought I would be the one suffering from anxiety and would be the couple facing the effects of anxiety, together.
I didn't realize that, eventually, we would get pregnant and decide we wanted (and were able) to be parents. I didn't know that, 19 weeks into our unplanned twin pregnancy, we would lose one of our twin sons unexpectedly. I didn't realize that our loss, coupled with a difficult labor and delivery, would leave me suffering from anxiety and postpartum depression and PTSD. In fact, I didn't realize I was suffering from any of the aforementioned until I experienced my first anxiety attack and my partner was there, phone in hand and online resources at the ready, telling me what was going on and how I could get through it.
Because of the social stigma surrounding mental illness and mental ailments, not much is openly discussed when it comes to anxiety. While a quick internet search will tell you everything you need to know, very rarely do people know what to say or do when they're around someone who has anxiety. Thankfully, my partner did, and any grown-ass man can (and should want to) educate himself on how to help his partner when they're suffering from anxiety. I definitely suggest looking up a few online and local resources but, until you do, here's a starter list, for all the grown-ass men who are part of a partnership, and willing to do what they can to be supportive.