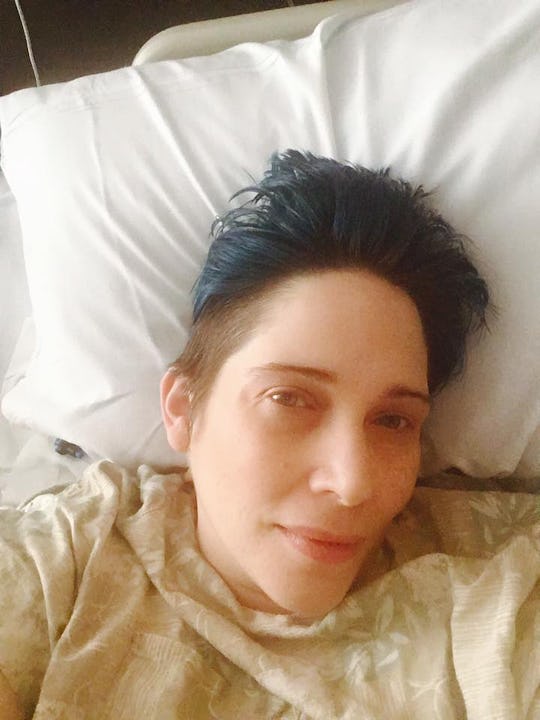 Courtesy of Steph Montgomery
9 Things No One Will Tell You About Hypertension, But I Will
A few weeks shy of my baby's due date, I had my first high blood pressure reading. My midwife thought it must be a mistake. She joked about "white coat syndrome" making me nervous and had a nurse check my pressure again. Then, in what felt like an instant, she was sending me to the hospital to possibly have my baby early. I had never even heard about gestational hypertension and had never had a high blood pressure reading so, frankly, I was scared out of my mind.
While I was used to having my blood pressure checked at every prenatal appointment, no one ever explained why. Still, when my numbers shot up I immediately felt like I had failed a test, and like my high blood pressure was a result of me making poor choices. I was still working at my stressful job, had gained more weight during my pregnancy than I had planned, and my growing pregnant body made it hard to work out. This was all my fault, right?
After 24 hours in the hospital saving my urine in a big plastic jar for my health care provider to test, and having my blood pressure checked every hour, I was given a strict set of instructions to take it easy, reduce stress, drink water, eat healthy, and try to get as much exercise as I could. Unfortunately, my work was not supportive of me going on maternity leave early, so I had to go up against our HR department and meet directly with our CEO to make it happen. So much for reducing stress, right?
Now that I have been through three pregnancies, including two with hypertension and one that progressed to preeclampsia, I know that my gestational hypertension wasn't my fault or the result of anything I did or didn't do. Some people's bodies don't tolerate pregnancy as well as others, and growing humans is hard work. I also think we need to reduce shame and myths about this misunderstood condition so that moms get the help that they need during pregnancy and after delivery. So with that in mind, here's what you should know about gestational hypertension that not enough people will tell you: