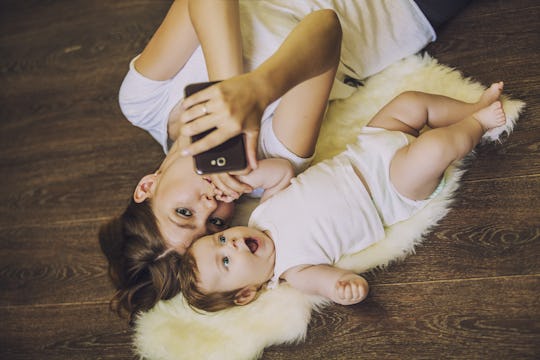 Fotolia
9 Things People Say About Millennial Moms That Are Actually Really Offensive
The term "millennial" hits a nerve. Somewhere along the way, being a millennial, and parenting through it, developed a negative connotation. Whether we're being grouped in with those who are "on their phones too much" or who are too involved in what's known as "soft parenting," we're constantly being bombarded by the things people say about millennial moms that are actually really offensive. In ten years of being a mother, I've heard my fair share and let me tell you, they hurt. Not only do these types of quiet insults attempt to derail my parenting but they're actually not helpful in any way.
By definition, a millennial is someone" born between 1980 and the early 2000s" so, because I fall somewhere in there (age is just a number, really), I'm a millennial mom; a modern, more liberal version of my mother and grandmother, only with a stark contrast: I aim to raise my children with diverse philosophies and principles so they'll be able to navigate our ever-changing landscape on their own terms, as opposed to those set out for me when I was young. I think the beauty of millennial parenting is that the old way of doing things doesn't have to be our way.
I was raised in a mostly conservative family. We went to church on Sundays through my parents' divorce, and even as I grew into womanhood, sex before marriage was not an option. The views molded by my parents and, with the exception of my low-key feminist grandmother, those before them set my younger brother and I up for certain beliefs and ideals. The way I'm changing that with my own children is by being more present than what I experienced, but at the same time, not relying so heavily on any specific role. I'm a mom, but I'm also passionate about my career. I believe in equality and the right for a woman to decides what she does with her own body.
Times are changing, but it's not a bad thing. I think we're raising more compassionate, strong-willed, accepting children than generations before us and in today's political climate, that's a good thing. On that note, here are some things people say about us millennial moms that are more offensive than they may realize. To be clear, they're not cool so give us a break, will ya?