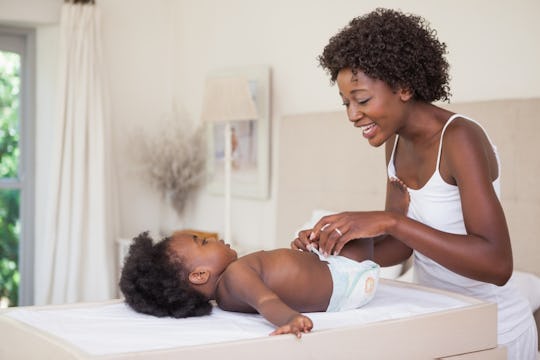 Fotolia
101 Thoughts I Had When I Was Left Alone With My Baby For The First Time
My son was 2-weeks-old when I was left alone with him for the first time. After visiting for a week, my mother was back at her home in another state, and after using two weeks of vacation (because paid family leave isn't a thing) my partner was back to work. So there I was, a brand new, still sore, completely terrified new mom, holding her baby in her living room. All alone. I can safely say I had 101 thoughts when I was left alone with my baby for the first time; not all of them necessarily inspiring or votes of self-confidence.
Motherhood is scary, in a way that's difficult to articulate if you haven't experienced that all-encompassing fear for yourself. I mean, I was pretty scared when I realized I was pregnant, and I was scared when my water broke and knew that in a few (read: many) hours I was going to be a mom. However, those fears were nothing when compared to the terror I felt when my son was placed in my arms. All of a sudden, I was endowed with this overwhelming and awe-inspiring responsibility, and living up to that responsibility can seem nothing if not daunting. So, when it came time for me to buck up and be alone with my baby, I was nervous. I knew that while I had people I could call that were really just a few minutes away, I was on my own. I was going to be the one feeding my son and changing my son and making sure my son survived the eight or so hours he spent with me, and only me. Yikes. That's a tall order, my friends.
So yeah, I had some thoughts when I was alone with my son for the fist time. While many of them were pretty scary and hilarious and almost a little sad at times, they were also necessary. The first day I spent alone with my son reminded me that I really could handle this whole mom thing. Sure, it's scary and yes, I would doubt myself from time to time, but I could do it. I could be the mom my son needed and deserved.