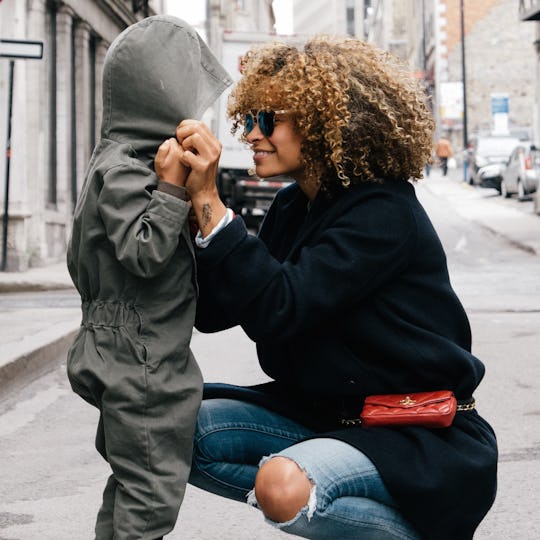 6 Things "One And Done" Parents Who Aren't Having Any More Kids Are Tired Of Hearing
Remember when you had your mom or sisters badgering you to have kids? And any time you saw them, the first thing out of their mouths was usually something like, "Are you pregnant yet?" Yeah, I do too. And as someone who didn't even know if she was going to have kids in the first place, it was nothing short of annoying (and it was often way more upsetting than that). When I did eventually decide to try for a kid and spent the next 10 months or so with heartburn, acid reflux and swollen feet, all to give my family (OK, and myself) the sweet baby they so wanted, I figured the conception bullying would end. Oh no, if you give those squawking hens an inch, they'll take a Duggar-sized mile. They apparently wanted another baby out of me almost immediately.
My son wasn't even a year old when the rumblings of having another child began creeping into their voices, and pretty much anyone else who felt they had an opinion about the contents of my uterus. When were we going to have another one, they wanted to know. Didn't we want to give our poor and lonely son a sibling? 
But the thing was, we got what we wanted in a vivacious, beautiful boy, and I got what I had never expected in a three-day-long labor that resulted in a someone traumatic c-section. So yeah, I'm good on the whole multiple births thing. But, like I said, when you have a kid, people suddenly get so concerned about how soon you'll be growing your small family — and they aren't shy about it. 
I don't mean to imply that having a difficult labor, or a particular harrowing experience in any part of parenting, is the sole reason why people decide they only want to have one kid. For me, I was perfectly fulfilled with my one-child family, and I had absolutely no desire to go diving back into the birthing pool, so the combination of those factors makes up my decision to have only one kid. For someone else, it's likely a different, decidedly personal array of factors. I just wanted to be clear on that, lest my story make you think that anyone who stops at one child is simply "afraid" to have more. Maybe they just... don't want more kids. And that's fine (as is, for the record, being afraid. You don't have to do a damn thing you don't want to, for any reason, and it's no one's place to judge you for that.)
I've heard so much guilt-ridden "advice" but as I try to potty train an unpredictable and sometimes clinically insane toddler, with increasingly adult-sized diaper surprises, I stand firm on my "one and done" rule. As such, here are a few things I could easily go the rest of my parenting career without ever hearing again.