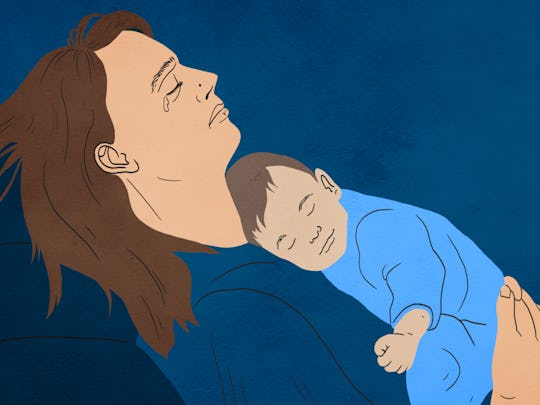 Claire Joines/Romper
13 Fears Every New Mother Has At Some Point (Or, You Know, Every Single Day)
Motherhood and a state of constant, sometimes debilitating fear are, for so many moms, synonymous. Many women feel afraid the moment they hold their baby, and that feeling of dread and trepidation is carried with them all through motherhood and (I'm guessing) until the end of time. It's hard not to let your mind wander to the dark place, were parenthood's worst case scenarios play on an endless loop and anxiety becomes an all-too-common state of mind.
What many women don't know, is that many of these fears are nothing more your body preparing you for parenthood. While scientists are still learning how pregnancy changes a woman's brain, they have discovered that activity controlling the parts of the brain responsible for empathy, anxiety, and social interaction, increases. This means, when you start to think about something absolutely horrible happening to your baby, it is actually your brain and your body preparing you for motherhood. It's a biological reaction, that reinforces feelings of fierce protectiveness and devotion. It's also annoying as hell. That too.
And the other fears and anxieties? Well, those are perpetuated by unrealistic social standards about motherhood and what it means to be a mother and, of course, ourselves. When other people aren't being are harshest critics, we are. And while others may grow tired of judging every single parenting choice or decision we make, we never seem to tire of criticizing ourselves.
Here are 13 of 152,557,308 (probably) fears every new mother has. If you're feeling constantly afraid and anxious, give yourself a break and above all, know that you're not alone.