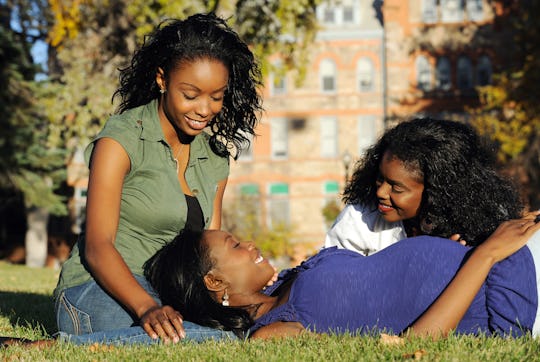 Fotolia
12 Things Every Pregnant Woman Thinks About Her Body, But Doesn't Say Out Loud
I'd like to tell you that I was completely body positive and body confident and in love with my body throughout my entire pregnancy. Then again, I'm not the lying type, so I won't even try. I had a difficult pregnancy (to say the least) that made it damn near impossible to completely and unapologetically value all that my body was doing and enduring. So, as a result, the things every pregnant woman thinks about her body, but doesn't say out loud, were things bombarding my mind on a pretty regular, relentless basis. Was I proud of these not-always-positive thoughts? Nope. Where they valid and understandable and, honestly, normal? Absolutely.
My pregnancy wasn't easy, and gave me more than a few opportunities to resent my body (unfortunately). I was hospitalized for a blood infection at 16 weeks. I lost one of my twin sons at 19 weeks. I had three pre-term labor scares that left me hospitalized for days at a time, all before 27 weeks. I mean, I hated pregnancy and, as a result, I didn't particularly like my body, either. When you're in the thick of something as difficult and life-changing as pregnancy, it can be pretty impossible not to search for a scapegoat to channel your frustrations or fears or misunderstandings. For me, that scapegoat was the body responsible for growing and birthing my now 2-year-old toddler.
Which, of course, makes the following thoughts extremely unfair. Not only was my body doing something incredible, it was also having to deal with my unnecessary and negative feelings or reactions. I know, especially now, that I should have been much kinder to my pregnant body while it was doing all the things and enduring all the things and preparing to do all the labor and delivery things, but it's hard when your mind is going through all these changes (not to mention hormone fluctuations). So, if you're pregnant and find yourself thinking the following things, know that you're not alone. Just, you know, try and remember to be kind to that amazing and awe-inspiring body of yours. It's doing a pretty remarkable thing.