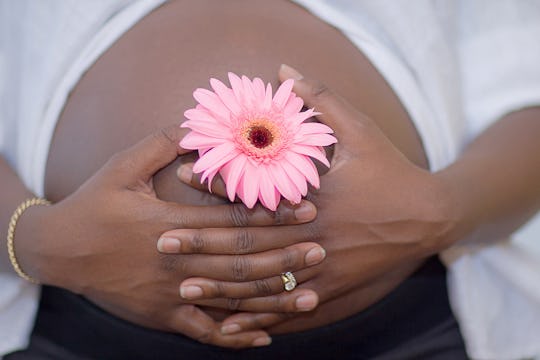 Fotolia
10 Ways To Fall In Love With Your Pregnant Body (Because It's Not Always Easy)
I'll be the first to admit that I absolutely hated being pregnant, mostly because I didn't really appreciate or like or feel comfortable in my pregnant body. It was hard for me to come to terms with all the constant, often nauseating changes my body was experienced as I cooked another human being in my belly. I wasn't really "happy" with the shape I was taking. Thankfully, and eventually, I did find ways to fall in love with my pregnant body, but I would be lying if I said it was easy. In fact, it was a constant struggle.
In a society that seems to only value women in terms of how they look or how attractive they're perceived to be, it can be difficult to love your body, whether it's pregnant or not. Our cultural standards of "beauty" are unforgiving, at best, and when you're gaining weight society tells you you're not supposed to gain, and you're expanding in a way our society tells you you're not suppose to expand (even when you're pregnant) self-loathing can hit you in the face quick and fast and in an unforgiving fashion. Tack on the loss of complete body autonomy and pregnancy side effects like hemorrhoids and constipation and vomiting and, well, it's not fun, you guys. Pregnancy just isn't always that much fun.
However, pregnancy is also a pretty miraculous thing, especially when you stop and think about all the things your body is accomplishing on a daily basis. I mean, even if you're just sitting on your couch, you're not just sitting on your couch; you're sitting on your couch and growing another freakin' human being. That's incredible. So, while it can be so difficult to learn to love your pregnant body when it's changing and seemingly plotting against you, if you try a few of the following suggestions, you may just find yourself able to really appreciate just how incredible your body is, pregnant or otherwise.