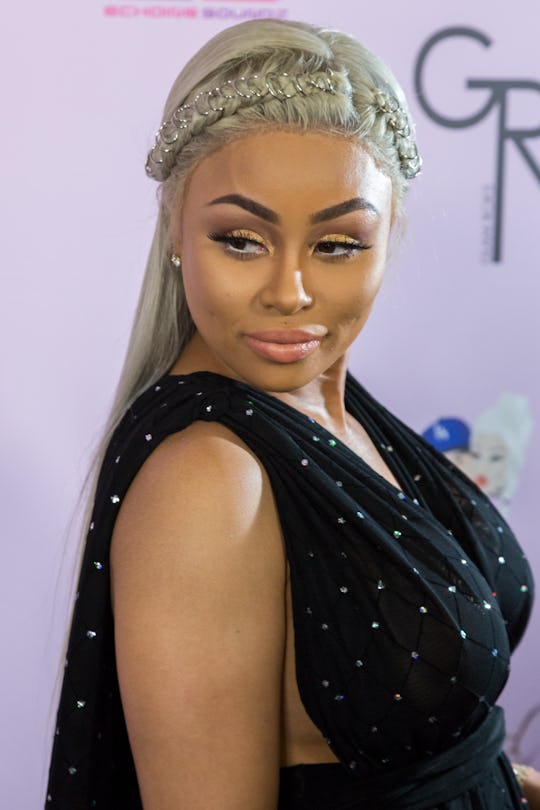 Greg Doherty/Getty Images Entertainment/Getty Images
Blac Chyna Shuts Down Body Shamers Who Don't Seem To Get Pregnancy
Instagram has unfortunately become a comfortable space for body shamers and all types of trolls to unleash mean and hurtful comments about people's appearances. Celebrities know this all too well, as they are constantly in the pubic eye and subject to extreme scrutiny. Blac Chyna has garnered more attention lately, since announcing her pregnancy with fiancé, Rob Kardashian. And as if criticizing a person's body isn't revolting enough, Chyna's pregnant belly bump sparked body shamers to criticize her "new physique" — you know, the natural change that happens to a woman when she carries a baby. But Chyna has never been one to hold her tongue, so in Chyna-fashion, a now pregnant Chyna shut down body shamers who talked about her baby weight.
In a paparazzi photo posted on celebrity news site, Tha Celebritea's, Instagram account, a pregnant Blac Chyna can be seen doing something totally ordinary: Walking around, without makeup, with her phone in her hand. No big deal there, right? Wrong. The comment section of the photo was full of offensive remarks, calling Chyna "a hot mess," saying she looks "horrible," she "blew up," and suggesting that she switch to maternity clothes. Chyna, who is already a mom to 3-year-old, King Cairo, who she had with ex Tyga (who apparently is no longer dating Kylie Jenner aka, Chyna's soon-to-be sister-in-law), did not let the rude comments go unnoticed.
She commented directly on the photo of her, according to Us Weekly:
To all you people out here with negative comments and insecure words (obviously because you have nothing else to do but criticize the next) I AM HAVING A BABY! Exactly what do you expect to see?! If I walked out in makeup and heels everyday to be beautiful to your means I WOULD BE MISERABLE & UNHAPPY which are two vibes I refuse to transfer to my little one.
Chyna called out the absurdity of the comments by asking a simple, yet obviously needed question, about the photo capturing her growing belly: "Exactly what do you expect to see?" (Not that body shaming in any circumstance is ever acceptable.)
Tia Mowry, among other celebs, has criticized body shamers because they're just tired of it. In March, the actress called out a woman who commented that she was "getting fat," on Instagram. But trolls, body shamers, and people who have nothing better to do, have not learned to stop shaming. Perhaps Chyna's warning at the end of her comment — that she has ammo to make unflattering remarks about some of the mean commenters' appearances — will do the trick, but of course, two shamers doesn't make any of the shaming right. So for now, body shamers should look introspectively at why they leave such hurtful comments, and, as Chyna said in reference to Birdman – put some respek on her name.