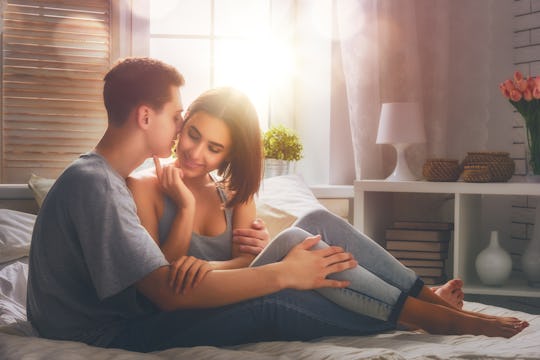 Konstantin Yuganov/Fotolia
9 Things Your Partner Can Do To Make You Feel Sexy Post-Pregnancy
No matter how empowered and confident of a woman you are, there may be a few post-pregnancy moments where you feel less than sexy. It's to be expected, right? But that doesn't mean it has to be your new reality. I think it's especially hard for moms to do the work themselves. I mean, you can only write down the things you love about yourself so many times. Often, you need someone to reassure you, which is why it's great to know things your partner can do to make you feel sexy post-pregnancy.
Most women can attest to the fact that feeling and being sexy is about so much more than your physical appearance, but for moms, I think that realization is even more important to keep in mind. Even if you find yourself at your pre-pregnancy weight, even if your favorite, skinniest pair of jeans fit, and even if you manage to shower and fix your hair every day (you sorcerer, you), that doesn't mean you're going to feel sexy. Becoming a mom is a huge change, and even without the burp cloths, it can make you feel like a different version of yourself. And sometimes? That version doesn't feel so sexy.
But you have enough going on, OK? It's hard enough to handle the new life of motherhood, let alone keeping yourself empowered and confident every day. Talk to your SO about the nine things they can do to make you feel sexy post-pregnancy so that you can get your groove back. Some are subtle enough that you won't even realize they've happened until one day you wake up and bam — there you are. A new mom, but your sexy, happy, confident self, all wrapped up in one.