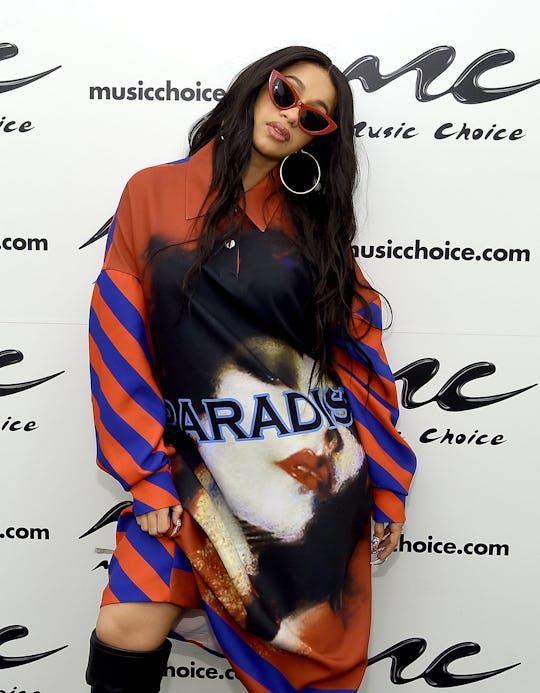 Jamie McCarthy/Getty Images Entertainment/Getty Images
9 Times Cardi B Got Hilariously Real About Pregnancy
After months and months of speculation, the rumors were confirmed during what would have otherwise been an inconspicuous appearance on Saturday Night Live: Cardi B is expecting her first child with fiancé Offset and is nearing her summer due date. If she's proven anything over the last few months, it's that not fame nor motherhood will change who she really is. In honor of baby B, here are nine times Cardi B got hilariously real about pregnancy, because the rapper knows nothing if not how to keep her loyal fans entertained and fellow moms screaming "YAAS!"
Cardi B announced her pregnancy by, well, simply showing it, as the camera panned back during her SNL performance, revealing her bump, as Harper's Bazaar reported. Later, her manager shared a behind-the-scenes video of the rapper, captioning it: "Surprise!" Billboard later reported that she opted to keep her pregnancy a secret for as long as she could because, as she said, "People be so thirsty to scrutinize and try to destroy something that it suppose to be a blessing."
Be that as it is, it hasn't stopped her from being hilariously honest about the joys as well as the trials and tribulations of pregnancy. TBH, as someone who is known for her iconic idiosyncrasies, it's no surprise that her pregnancy has been just as entertaining. Without further adieu, here are Cardi B's nine most iconic pregnancy moments, in no particular order, thus far.
1. When She Hit Back At Those Who Thought A Baby Meant The End Of Her Career
Cardi B responded to people who were speculating that her "career would be over" after she became a mom, as Glamour reported, saying that she has been killing the game for so long, and being responsible for a child will only make her more motivated and driven.
"I started winning when the whole world was doubting on me," she began in an April tweet. "Think imma lose with my little baby counting on me?"
2. When She Explained Why She Kept Her Pregnancy A Secret
Explaining why she chose to keep her pregnancy a secret for as long as she could, Cardi B took to her Instagram Story to say that she wanted to just enjoy being pregnancy without having to deal with the inevitable onslaught of public opinions. According to Vulture, she posted:
This is why I did not wanted to say nothing. People be so thirsty to scrutinize and try to destroy something that is suppose to be a blessing.
3. When She Came Across This Pregnancy Milestone
On Sunday, Cardi B gave everyone the pregnancy update that they had been waiting for: she shared with her Twitter followers that her stomach had gotten big enough that she could no longer see over it... meaning that yes, her vagina was officially out of view.
4. When She Just Wanted "To Hibernate Like A Damn Bear"
On Saturday, Cardi uploaded a video of herself showing up her burgeoning bump on Instagram, and shared with her followers that she is officially over it, as PopSugar reported. Be that as it is, she's definitely getting into bona fide nesting mode, as she also said she's really into cleaning, and making notes in her planner (same, Cardi, same). In the video, she said:
Brooo everyday for 6 hours straight i want to lay in bed, then I want to get up and start cleaning and writing on my planner and making meetings on the phone and walking.
5. When She Got Excited About This Baby Update
Cardi B was a guest on The Howard Stern Show, and officially revealed not only the baby's sex (she is having a girl) but also that she's already 3.5 pounds. According to People, she said:
Shorty weighs three and a half pounds.. She do weigh three and a half pounds. That's pretty good for seven months, right? Because I was born five pounds.
6. When She Just Wanted To "Fat In Peace"
Before Cardi B had confirmed her pregnancy, fans were already speculating that she might be expecting, The Cut reported. One replied to an Instagram video: "Is there maybe a Kylie Jenner secret that we need to know about lol Just asking." Cardi responded:
No b*tch I'm just getting fat. Let me [be] fat in peace.
OK, so, we know now that there was a baby on the way, and we can only presume that the sentiment still stands.
7. When She Swore Off Heels & More
Truly embodying the M.O. of every pregnant woman alive, Page Six reported that Cardi B took to her Instagram again to explain that she's totally over uncomfortable clothing, and that she just wants to be comfortable at this point. According to Page Six, she said:
I am at this point in life where I do not want to wear no heels, no sneakers or anything that is closed toes… I don't want to wear jeans or sweats, I don't want to wear a bra. I just want to be bear [sic] footed all day.
She added: "I just want to wear these loose a** dresses. I don't want to wear a wig."
8. When She Asked That All Forthcoming Convos Be About "Food"
On the same Insta rant, Cardi B explained that as she is completely over people dissecting her body and her clothing choices, she'd like all further conversations to just be about food... a sentiment that anyone could probably get behind.
9. When She Took A Much-Needed Break
Though Cardi B did make a surprise appearance at the Latin Music Awards last month, she's made it clear that she's done performing until the baby is born... but not for the reasons some may think. In April, people were shaming her for twerking onstage while pregnant, leading some to assume that's why she decided to stop until she gave birth. However, Page Six explained that she actually tweeted her rationale, and it's as follows:
Shorty keep growing. I be looking like I be moving and everything, but in reality, a b*tch barely can breathe. I want to thank y'all for understanding. I'll be back for the Bruno Mars tour and everything.
For anyone who was speculating that pregnancy would change Cardi B, those fears should be put to rest: if the rapper has proven anything, it's that she's always true to who she is, and TBH, that's a big part of what makes her so loved in the first place.