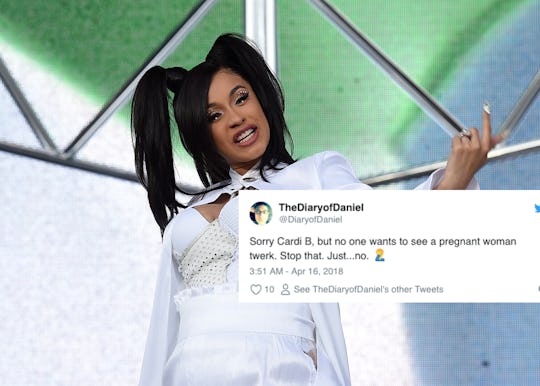 Kevin Winter/Getty Images Entertainment/Getty Images
People Are Shaming Cardi B For Twerking While Pregnant, & It's Really Ridiculous
When Cardi B confirmed her pregnancy on April 7 via a Saturday Night Live performance, a few critics wondered if she'd still perform at Coachella. As Cardi B's diehard supporters already know, however, she doesn't buy into the sexist idea that a woman has to "choose" between having a career or a baby. And on Sunday, Cardi B sent her haters a strong message when she took to the stage at Coachella to deliver a killer performance while pregnant. Making matters even more iconic is that Cardi B twerked during her Coachella performance, a move that is generating a lot of chatter on Twitter. Apparently, some fans think Cardi B is a bad mom and "trashy" for dancing with her butt in the air. You can't make this stuff up, right?
Shortly after Cardi B's SNL pregnancy reveal, she took to Power 105.1's The Breakfast Club on Tuesday to discuss the future of her career. "It just really bothers me and it disgusts me because I see a lot of women online like, 'I feel sorry for you. your career is over,'" Cardi B said, according to People. "And it's like why can't I have both? Why do I gotta choose a career or a baby? Why can't I have both. I want both."
Of course, Cardi B doesn't have to prove to her critics that she can pull off motherhood and her music career at the same time. But Cardi B isn't the type of person to ignore criticism, and her performance at Coachella is perfect evidence of this.
Donning a white jump suit and high pig tails, Cardi B took to the stage on day three of Coachella to perform an energetic medley of her greatest hits. And at some point during the performance, a reportedly seven months pregnant Cardi B started twerking. Considering pregnancy can be physically draining, it's pretty impressive that Cardi B was able to go all out for her fans. Girl knows how to put on an engaging show, to say the least.
Following Cardi B's set, many fans took to Twitter to praise her stamina and confidence.
"Cardi B is twerking and putting on a concert while pregnant and I run out of breath eating," one person wrote.
"Look. @iamcardib performing at Coachella AND twerking WHILE pregnant is the inspiration I needed today," someone gushed.
"On God, you would've thought that Cardi B had a full catalogue of top 10 hits," a smitten fan penned. "That's the energy she's giving right now. I love that confidence."
"All I thought while watching cardi b perform while pregnant is howwwwww!?!" a parent marveled. "I used to get sooo light headed if I even stood for too long in the beginning and she whole twerking up there."
Still, all the love for Cardi B couldn't silence her critics who slammed the twerking as "trashy" and even dangerous.
"Oh no Cardi B that's bad. That's definitely not sexy," someone said. "Twerk after the baby comes out. Until then, just stand there."
"Sorry Cardi B, but no one wants to see a pregnant woman twerk," another person added. Stop that. Just no."
A commenter chimed in: "Don't get me wrong i love cardi b but her twerking while pregnant on stage looks trashy as hell, & i'm not arguing."
And one particularly irked fan wrote, according to Twitter:
So who is this Cardi B anyway? And that kind of repetitive twerking is NOT good for pregnant women. Could easily tear the placenta,etc. Miscarriage very possible. This had nothing to do with a pregnant woman working.
First off, exercising (yes, I consider twerking to be a form of exercise) is not unsafe for a pregnant person. "There is no real evidence that exercise is linked to miscarriage," Dr. Bruce K. Young, professor of obstetrics and gynecology at New York University School of Medicine, told Parents on the topic. Not to mention, it's probably a safe bet that Cardi B has a team of people around her to ensure that she maintains a healthy pregnancy while on tour.
Additionally, a person's sexuality or desire to have fun doesn't magically evaporate when they get pregnant. Cardi B, to her credit, is simply staying true to herself by dancing her butt off while pregnant. If Cardi B twerked before she got pregnant, I'm not sure why people would expect her to just "stand there" now.
Lastly, there's nothing trashy about a pregnant person dancing — twerking included. And if a pregnant person expressing themselves is so classless, then what is the alternative here? Should Cardi B lock herself in a room until the baby arrives? Dictating how a person should act while pregnant is pretty offensive, to put it mildly.
The upside to this controversy, however, is that it poses some important questions about how pregnant people are treated in the public eye. Hopefully, the backlash Cardi B is facing at the moment will act as a reminder that pregnant people are still people and that they have the right to make their own choices.
Check out Romper's new video series, Bearing The Motherload, where disagreeing parents from different sides of an issue sit down with a mediator and talk about how to support (and not judge) each other's parenting perspectives. New episodes air Mondays on Facebook.