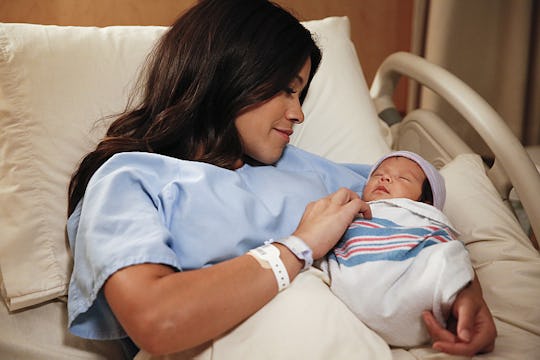 Greg Gayne/The CW
9 Times 'Jane The Virgin' Got Everything Right About Motherhood
It's no mystery why the comedy-drama-satire series Jane the Virgin has acquired such a loyal fan base and taken home countless awards. The show is exceptionally entertaining, and ever since Jane became a mom, the shows gone from love to really freakin' love in my books. Jane is saying all the things about parenting that I want to. 
Loosely based on the Venezuelan telanovela Juana la Virgen, an hour-long episode of Jane the Virgin runs the gamut on emotions alongside insane plot twists (she stole his sperm?!) and outrageous characters (ahem, Rogelio DeLaVega, anyone?). Although the show takes creative license to embellish and add in the theatrics, one thing the super-feminist series doesn't exaggerate on is motherhood. If you don't watch, Jane Villanueva (who, you guessed it, is a virgin) is accidentally artificially inseminated with the sperm of a (very handsome) hotel owner, Rafael Solano, during a routine checkup. The first season ends with the birth of Jane and Rafael's adorable son, Mateo. Season Two gets arguably better, especially since it wastes no time in getting real with the wild ride that is motherhood. And ever since Jane began a new chapter of her story, her wisdom on motherhood has been incredibly on point.
Usually, TV shows are quick to glamorize motherhood in way that doesn't feel too familiar or authentic to the women who are actually living these scenarios. But as a young mom, it's refreshing to see a character that's written to feel like she could be your best friend — or hell, even you.
Here are nine moments when Jane the Virgin said everything about motherhood that I wanted to: