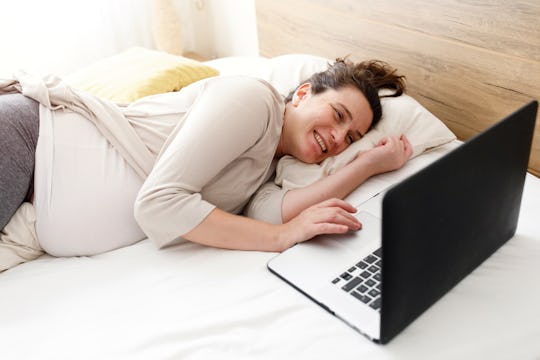 burakkarademir/E+/Getty Images
9 Virtual Doula Services To Support You Through Pregnancy & Beyond
I can't imagine how scary it would be if I were pregnant right now —not being able to attend classes, and potentially not even having my husband in the room in some places if I were to labor in a hospital. Thankfully, there are virtual doula services being offered to ensure you're not alone, and to help you feel prepared to have a healthy, safe labor — whether that's in a hospital or at home, all thanks to doulas taking their work online.
So how does a "virtual doula" work? "A virtual doula can provide support via any combination of messenger support, whether it's FaceTime, a Zoom call (with more than one party if needed), etc., in addition to the standard support before heading to the hospital," says Nichole Joy, a digital doula and online childbirth educator based in Tampa. And Joy was actually a "virtual doula" before any global disaster happened. She tells Romper that she decided to be a virtual doula because "there is a gap in support for the families that choose not to hire a traditional birth doula, for various reasons. There are families in rural locations without access to a birth doula and others that simply don't want another person at their birth."
Though she's been a birth doula for nine years, Ryah Jo Silvernagel, birth doula and childbirth educator at Expecting Joy says she's been a "virtual doula" for about three weeks now. After everyone was asked to start social distancing, Silvernagel says, "This was when I and many other fellow members of my birth community decided to offer our services online. For my clients and me, the need to change and adapt was a necessity. These are scary times, but where there's a will, there is a way."
She says that while the way you receive the support is very different, the ways she and other doulas are supporting moms-to-be virtually is still the same. There's advocacy, education, encouragement, empathy, compassion, and a "working knowledge of comfort measures."
Silvernagel believes that virtual groups will continue to grow and adapt to meet the needs of their communities. So if you're a mom-to-be looking for some extra support, this list is here to help.