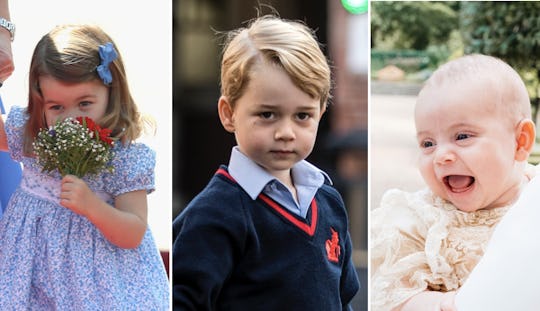 WPA Pool/Getty Images Entertainment/Getty Images/ Chris Jackson/Getty Images Entertainment/Getty Images/ Handout/Getty Images Entertainment/Getty Images
9 Adorable Ways Prince George Is The Ultimate Big Brother
Prince George is now a big brother to not just one, but two little siblings. As we eldest children know, having multiple younger siblings is one hell of a big responsibility. I mean, ostensibly his parents, the Duke and Duchess of Cambridge, will take on the brunt of the work, but let's face it: Parents can only do so much. Sometimes a big brother has got to step in. While he's still pretty new at his job, I've found at least nine ways that Prince George is the ultimate big brother to Princess Charlotte and little Prince Louis.
So here are a few things to keep in mind when considering what makes a great big brother; it's not the 1950s anymore. People aren't looking for those caricatures of big brothers all the time, you know the types; goofy, big, a little aloof, but always in charge. No thanks to any of that. Fortunately for 3-year-old Princess Charlotte and 3-month-old Prince Louis, their 5-year-old big brother already has the markings of a solid human being. Someone who is going to be there for them while also letting them be the people they want to be.
Or he'll become King of England and go the King Joffrey from Game Of Thrones route. At this point it's still a crapshoot, but I have high hopes for Prince George.
1. He's A Back Seat Brother
Prince George might be third in line for the throne after his father Prince William and grandfather Prince Charles, but he's not letting it affect his dynamic with his spitfire little sister Princess Charlotte. As Queen Elizabeth II said in January, Princess Charlotte tends to boss her older brother around, according to ABC News. And he's apparently totally fine with it.
2. He's Willing To Work
Prince George's grandmother, Carole Middleton, is the owner of a party events company called Party Pieces. And when Prince George stays with his grandmother, he reportedly loves to play shopkeeper in the family storefront in Berkshire, according to the Daily Mail. Here's why that makes him a great big brother; Prince Louis and Princess Charlotte can totally sponge off him when he starts working. That's the best.
3. He's Secretly Funny, I Assume
A sense of humor is important in a big brother, and while Prince George can sometimes seem pretty reserved when out in public, a palace insider told People that is not always the case:
George takes a little while to warm up, but once he's comfortable with you, he's very chatty and charming.
Maybe he's just stressed out by the thousands of cameras following him around. I'm just spit-balling here.
4. He's The Comforting Cambridge
When Prince George's uncle Prince Harry married Meghan Markle on May 19, one of the little bridesmaids got a bit upset. According to Town & Country, 2-year-old Zalie Warren apparently had a bit of a meltdown. And who swooped in to comfort her? None other than Prince George, according to royal correspondent Emily Andrews who witnessed the event:
Poor Zalie Warren had a bit of a meltdown. She's only two. She started crying when they were waiting for Meghan. It was only a couple of minutes. So Nanny Maria Borrallo kind of looked after her, and George apparently was trying to comfort her as well, which is very sweet.
Considering what a spicy little thing his sister is, I feel like he's had some practice...
5. He's Already Cooking
Prince George's mom Kate Middleton said in March that her oldest and Princess Charlotte love to make pizza, according to Hello! Magazine, so hopefully he will bring those skills to his babysitting duties some day. Otherwise it might just be canned soup like I used to give my brothers.
6. He's Got Amazing Hand-Me-Downs
I know not everyone is on board with Prince George's array of sweaters, shorts, and suspenders, but I personally love it. And since the Cambridges always seem to be such fans of hand-me-downs, you know Prince Louis is going to get some great clothes.
7. He's A Protective Prince
When Prince George and Princess Charlotte went to St. Mary's Hospital in London to meet their baby brother in April for the first time, there was this sweet little moment where Prince George could be seen putting his arm around his little sister, as Cosmopolitan reported. Because she might be a bit bossy, but he still seems protective of her. And I love it.
8. He's Fine Sharing The Spotlight
During the 2018 Trooping the Colour, the royal family was out en masse to watch the festivities. And Prince George's royal cousin, Savannah Phillips, stole the show by covering his mouth when he was reportedly singing, according to HuffPost. How did the future king react? He laughed. Because this big brother is not about to hog the spotlight. He's willing to let everyone shine.
9. He's Just Like Dad
Prince William has reportedly always been a good big brother to Prince Harry; he was best man at his wedding, after all. And Prince George seems to be following in his father's footsteps not just in looks but in personality. Reserved but charming, loyal and protective, sweet and kind.
To be honest, I would wish he was my big brother once upon a time...