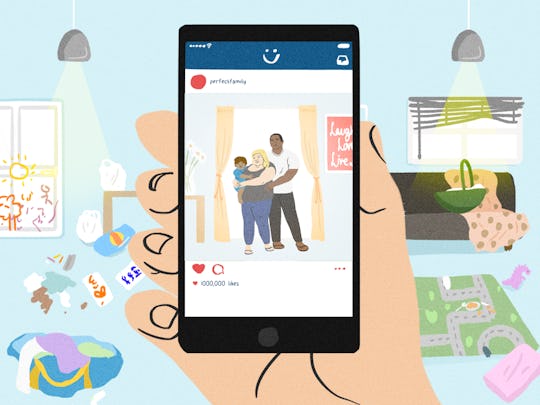 Claire Joines/Romper
9 Ways Social Media Makes New Moms Feel Like Sh*t About Their Lives, Babies, & Bodies
Social media can be a wonderful tool for new mothers. From providing parents with a sense of community to staying in contact with distant family members, Facebook, Twitter, and Instagram feeds can give mothers the support they need. Unfortunately, social media can also be detrimental, and provide additional (not to mention constant) ways society can be offensive to new mothers.
In fact, the dark side of the Internet isn't lost on many parents, as many caretakers end up banning their kids from social media for fear it will be more hurtful than helpful. So, why don't we do the same thing for ourselves? Why don't we protect our mental, emotional, and even physical wellbeing, and take a break from social media when it is no longer being a supportive tool?
Maybe it's because we have been taught that taking care of ourselves isn't as important as looking the part of someone who has it all together. Nothing says, "I'm not at my best," like ghosting from social media. I'm not saying that backing away isn't very often a sign of actually having great mental health, but to the judgey masses out there, there's something wrong with us — like, how frail and frantic must we be if we can't even deal with Facebook? At least, that's what we're worried people will think if we step away.
Or perhaps we keep engaging online because we are so focused on everyone else (family, friends, acquaintances, etc) that we forget to stop and look inward, to assess if staying in contact with specific people is really beneficial or healthy. Either way, we need to start consistently reminding ourselves that in no way are we obligated to remain in constant contact with the world. Every social media account has an "off" button, so-to-speak, and we all should feel more comfortable using it when we need to.
Here are nine ways social media makes new mothers feel like absolute sh*t, because the internet isn't all rainbows and roses. If you feel like you're social media experience dangerously relates, maybe it's time to take a break.