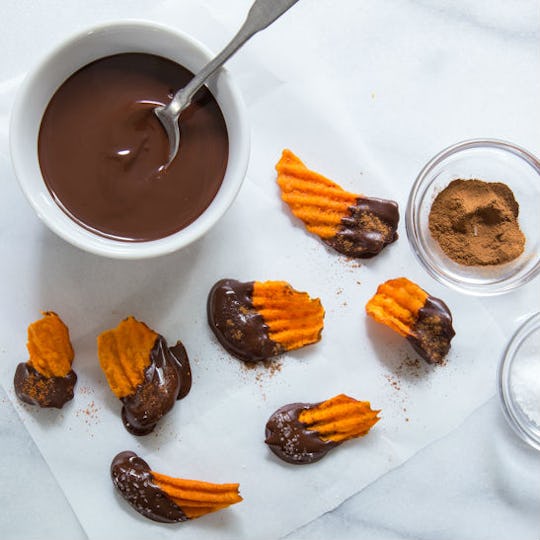 9 Ways to Eat Chocolate While Pregnant That You've Never Imagined, But Should Totally Try
Having a child does weird things to your body, and nowhere is that more evident than in women's pregnancy cravings. During my pregnancy, I frequently made 3 a.m. trips to the fridge so I could dip my pickles in chocolate pudding. I know, totally disgusting, but there was something about the salty-sweet vinegar combination that spoke to my future daughter. It was then that I realized all the delicious (or, at least, different) ways to eat chocolate while pregnant. Mixing in salty ingredients, combining it with fruit, using a spoon and a bottle of Hershey's syrup — the possibilities are endless!
But remember, it's always important to practice moderation when it comes to sweet treats during pregnancy, as too much can lead to gestational diabetes. Consider eating smaller portions of your chocolatey concoctions or opt for dark chocolate, which offers some health benefits, like lowering the stress-causing hormone cortisol. (Also, according to the United States Department of Agriculture, one ounce of dark chocolate contains 16 mg of calcium — another plus for all the pregnant ladies.) Your chocolate cravings may not include a pickled cucumber, but if you're looking for a new way to eat chocolate and capitalize on your crazy pregnancy cravings, here are nine incredibly scrumptious recipes that combine salty, sweet, and savory spices intro a treat that even Willy Wonka wouldn't be able to create.