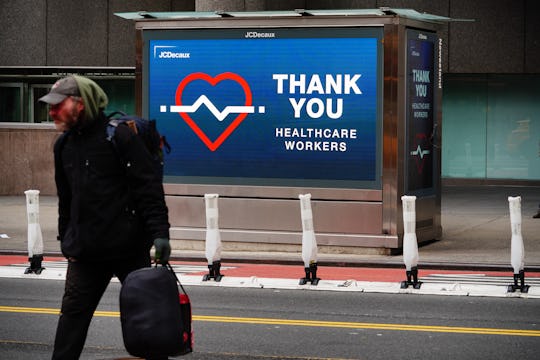 NurPhoto/NurPhoto/Getty Images
9 Ways You & Your Family Can Support Healthcare Workers Right Now
If you're sitting on your couch anxiously watching the pandemic unfold on TV, well first of all, good for you for staying home! As that is the number one helpful thing we can do right now. But many of us are also desperate to offer support to those on the front lines. Which is why I've rounded up some things you can do to help healthcare workers right now.
It's heartbreaking to think of what our doctors and nurses and emergency responders are going through. They're exhausted, stressed, and putting their own health and safety at risk every single day. Many of them can no longer see their own families, due to the possibility of exposing their loved ones to the virus. (This photo of a dad seeing his son crawl for the first time through a window is straight-up sob-inducing...)
But rather than wring our hands and despair, let's get busy! Let's do what we can to help all of the incredibly brave, amazing healthcare workers out there. As we are homebound, the internet is really our number one tool for offering assistance right now. So get your laptop, pull up a chair, and pick something — however big or small — to show some support.