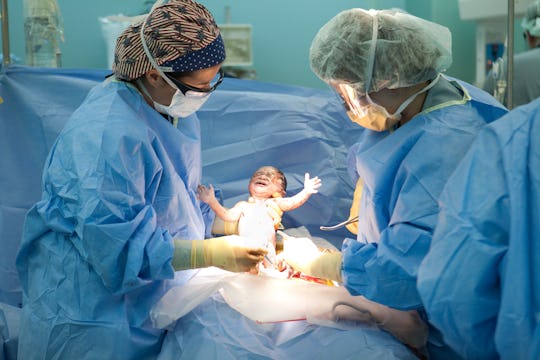 Brendan Hoffman/Getty Images News/Getty Images
9 Weird Things That Happen To Your Body When You Have A C-Section
You've gone through nine months of pregnancy and noticed some odd bodily changes. And if you're having a Cesarian, you're going to experience weird things that happen to your body when you have a C-section. The fun never stops for childbearing women, does it? But all joking aside, some women downright love the experience of having a C-section, so don't for one second think I'm knocking this birth process, because I'm not.
But weird things are going to happen to your body because, well, bodies are weird, (in a totally cool way) and a C-section is major surgery. According to the American College of Obstetricians and Gynecologists (ACOG), a C-section is when a baby is brought into the world in a sterile room after doctors make an incision in the mother's abdomen and uterus. You will likely be given a regional anesthesia or an epidural block, both of which produce a loss of sensation in the lower half of your body.
You will also have a vaginal catheter inserted, in case you have to pee during the procedure, and intravenous line will be put in a vein in your arm or hand so you can get vital fluids and medications during surgery. All quite normal. The following weird things might occur, but don't worry. Even though they're weird, they're totally common.