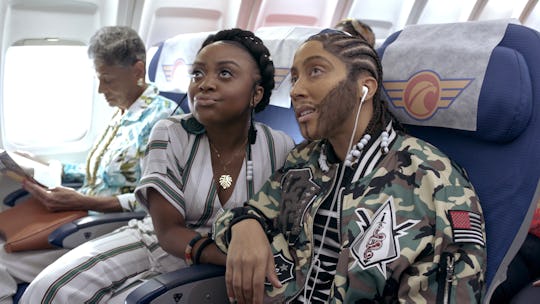 HBO
As Expected, The 'A Black Lady Sketch Show' Cast Is Filled With Comedy Powerhouses
A Black Lady Sketch Show comes to HBO on Aug. 2 and the new comedy series looks nothing short of legendary. As the title suggests, the show was cast, written, and directed by black women. And after the hype generated from the Season 1 trailer, which made its debut in early July, it's almost impossible not to get excited and fall in love with the brilliantly funny women of the Black Lady Sketch Show cast, which includes Robin Thede, Ashley Nicole Black, Quinta Brunson, and Gabrielle Dennis.
In an interview with Salon, Thede, who is the creator, co-executive producer, and star of A Black Lady Sketch Show, gushed about her core cast while revealing the importance of the show being backed by a team of black women. Thede said:
This cast is so talented and so amazing and everyone's playing dozens of characters. And I think being able to see black women who are written for by black women who are directed by black women who are black women starring in roles as black women, that will read as more authentic. And it allows us to explore the boundaries of comedy or the limitlessness of this genre.
That said, when speaking with CBS News, Thede also let fans know A Black Lady Sketch Show will also be relatable to a wide net of people.
"The show is specifically cast, but universally funny," she said. "You're going to get specific things that for sure came out of the writers' room, or that the cast added on when they were performing, but then you're also going to get universally funny jokes."
So who is leading the Black Lady Sketch Show cast? It's time to meet the actors behind your new favorite show — and maybe even see a familiar face.