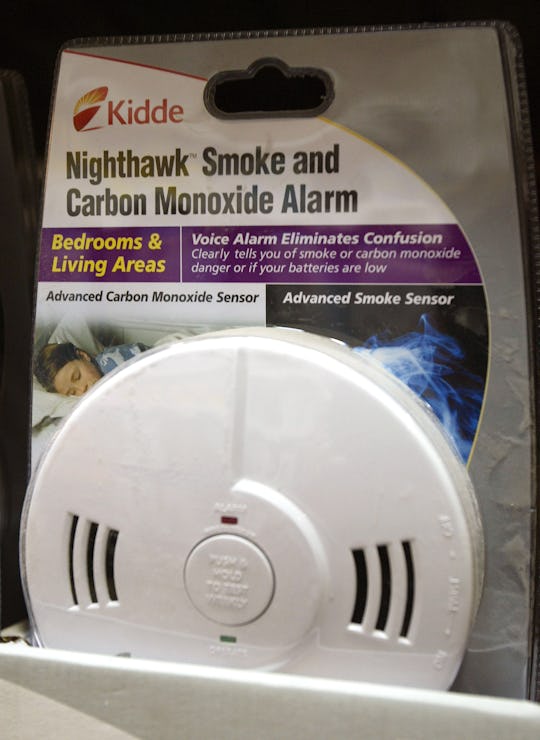 Tim Boyle/Getty Images News/Getty Images
A Child's Combo Smoke And Carbon Monoxide Alarm Has Been Recalled And It's A Safety Issue
Everyone wants to keep their kids safe; no matter what sort of parenting style you prefer or how old your kid might be, their safety comes first. Always. If one of the ways you were keeping your kid safe was to install a smoke alarm/carbon monoxide detector, you might want to check the brand. Because the Kidde NightHawk smoke/carbon monoxide alarm has been recalled due to a potential malfunction.
Romper has reached out to Kidde for comment about the recalled product, but has not heard back at time of publication. The Kidde NightHawk combo smoke/carbon monoxide alarm was designed to chirp when carbon monoxide or smoke was detected in the home. As we know, carbon monoxide does not have a smell, a taste, or a sound, making it virtually impossible to detect without some sort of safeguard. The Kidde NightHawk alarm is built with an electrochemical CO sensor to alert homeowners of a possible carbon monoxide leak in their home so they can get their families out safely. According to the Consumer Product Safety Commission, the talking smoke/carbon monoxide alarm "can fail to continue to chirp when it reaches its seven year end of life if the batteries are replaced, leading consumers to believe it is still working. This poses a risk of consumers not being alerted to a fire or CO incident in their home."
Approximately five million of the Kidde NightHawk smoke/carbon monoxide alarms have been sold throughout the United States and Canada. There have been eight incidents reported to Kidde regarding malfunctions of the alarm, but thankfully no injuries were reported. The recall includes models that were manufactured between June 2004 and December 2010. Be sure to check for the model number KN-COSM-IB of you are concerned that your alarm is part of the recall. Contact Kidde for a free replacement:
Kidde toll-free at 855-239-0490 from 8 a.m. to 5 p.m. ET Monday through Friday or online at www.kidde.com and click on "Product Safety Notice" for more information.
According to the Center for Disease Control and Prevention, the symptoms of potential carbon monoxide poisoning are:
headache
dizziness
weakness
upset stomach
vomiting
chest pain
confusion
Carbon monoxide is found in fuels and can build up over time indoors. People who are sleeping or who have been drinking won't necessarily feel the effects of carbon monoxide poisoning and could die before they feel any symptoms. It's important to have a working carbon monoxide alarm in your home, but the CDC also recommends having your heating system serviced every year by a qualified technician.
Because keeping our kids safe is really the only thing.