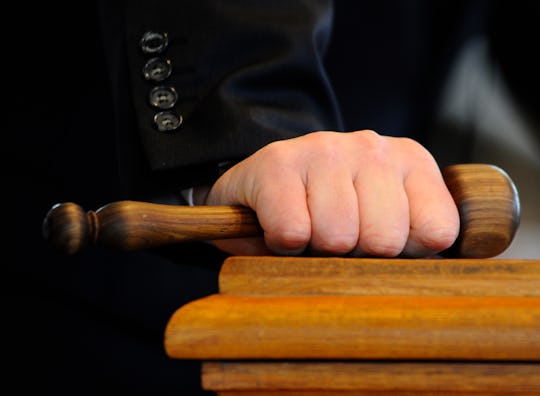 Alan Crowhurst/Getty Images Sport/Getty Images
Lawyer Claims Women Are "Exceptionally Good At Lying"
Tennessee billionaire Mark Giannini has been accused of raping a 28-year-old mother of four when she applied for a housekeeping position at his Memphis mansion. According to testimony from the alleged victim, Giannini put an unknown substance in a drink he offered her before getting aggressive and ultimately raping her for hours. She woke up much later in the emergency room. But apparently none of her testimony should matter, because Giannini's defense lawyer said women are "exceptionally good at lying" during his closing arguments on Thursday.
There's always a reason behind a lie. People can be very good at lying. Women can be especially good at it because they're the weaker sex and we ... want to protect them and not have anybody take advantage of them.
This was the argument defense lawyer Steve Farese made as the three-day trial to determine whether or not 51-year-old Mark Giannini had raped the alleged victim in June 2014. He said those words in front of a jury, which probably included some of those weak, lying women he referenced. And here's what's especially terrible about that; Giannini was found not guilty. As Shelby County assistant district attorney Jessica Banti noted after the trial (where she tried to argue that Giannini's wealth and the victim's criminal history made him feel "untouchable"):
No one was going to believe her over him.
President-elect of the National Women's Law Center Fatima Goss Graves told The Huffington Post she believed Farase should be punished for his "shocking" remarks because "these sorts of ideas and myths about rape are precisely what makes it hard for a woman to come forward and report a rape in the first place."
If recent history in sexual abuse cases have taught us anything, it's that no one seems to get punished for victim blaming in the courtroom. Or even punished for passionately praising an attacker... in front of the victim.
Utah Fourth District Judge Thomas Low sparked a massive outcry last week when he praised a convicted rapist in the courtroom as a "good man." Before sentencing former Mormon Bishop Robert Vallejo to a minimum of 15 years in prison for 10 counts of forcible sexual abuse and one count of object rape, Low (who was reportedly choking back emotional tears) said:
The court has no doubt that Mr Vallejo is an extraordinarily good man... but great men sometimes do bad things.
Republican Utah Sen. Todd Weiler, who is the chair of the Senate Judiciary, Law Enforcement and Criminal Justice Committee for that state, told The Huffington Post that he didn't think the judge's words were serious enough to require action:
I'm not as outraged as I think some people are, but I am concerned what kind of message that might have sent to the victims because I would never want them to feel discounted in any way.
Which isn't especially comforting for Julia Kirby, one of the women who Vallejo raped when she was just 19 years old. She most certainly felt discounted by Judge Low. In an interview with the Utah Desert News, Kirby said:
[His words] sent a message to me that not everyone is going to listen to you, so why even bother? People will still not believe you, people will still take others' sides, and in this case, take the side of the perpetrator.
One in three women will experience sexual violence in their lifetime. Two-thirds of those sexual assaults go unreported. Because of men like Judge Low and Steve Farese, who have made victim blaming not only acceptable, but expected.