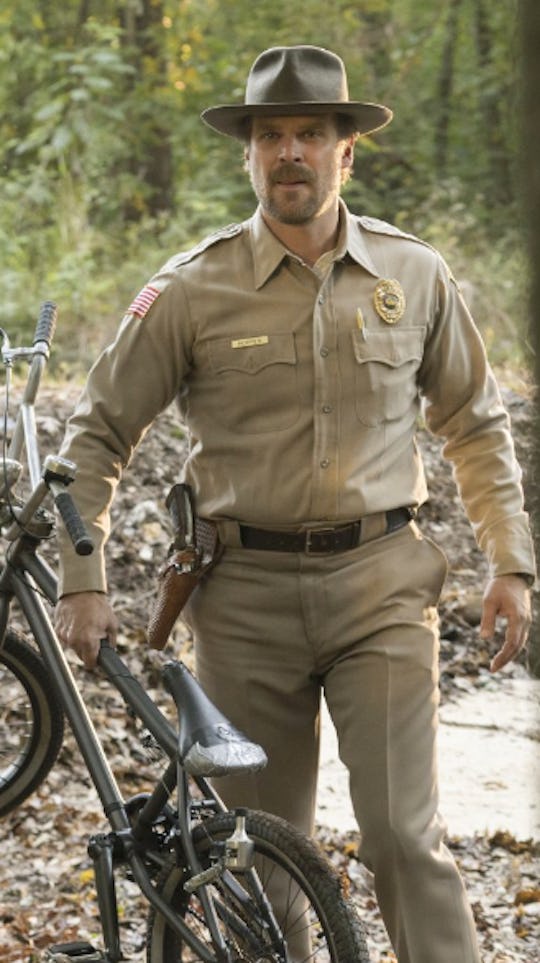 Netflix
A Hopper From 'Stranger Things' Halloween Costume That's Perfect For Kids
In Netflix's Stranger Things, police chief Jim Hopper stands out for his snarly wit and less-than-sunny attitude. Unlike the imaginative kids or the devoted mom Joyce, Hopper is unapologetically surly for much of the show, and there's something lovable about his whole negative demeanor. He's a dedicated police officer who gets the job done, to be sure, but don't expect him to be terribly friendly about it. With that in mind, this Hopper from Stranger Things Halloween costume for kids will help your child transform into the grumpiest police officer in Hawkins, Indiana.
You and your kid can come up with a close approximation of Hopper's look without a ton of effort. With his uniform, badge, and flashlight, you'll be all set for an evening of monster-hunting. Or at least you'll be prepared to conduct a thorough search for candy in the neighborhood.
For added fun, you can encourage others in your group dress up as different Stranger Things characters for Halloween. There is something very appealing about the idea of a whole troop of kids decked out in '80s finery for the spookiest holiday of the year. Just be sure to keep an eye out for any stray Demogorgons on your block.