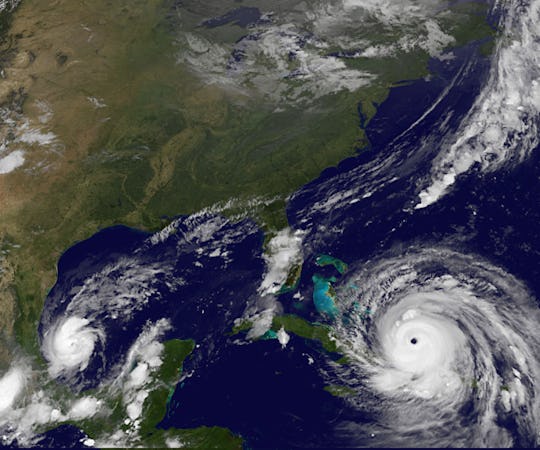 Handout/Getty Images News/Getty Images
Here's A List Of States Hurricane Irma Could Hit
Now that Hurricane Irma has made its way through the Caribbean islands, most computer models agree that it will be heading to Florida next, despite previous guesses that it might take a sharp turn east and head back to sea. Depending on how the hurricane progresses, though, Florida might not be the only place in the United States where the storm lands. In fact, there's now a growing list of states Hurricane Irma could hit.
"Hurricane Irma continues to be a threat that is going to devastate the United States in either Florida or some of the southeastern states," Brock Long, the administrator of the Federal Emergency Management Agency, told NPR on Friday. "Anybody from Alabama to North Carolina should be watching this storm very closely."
The National Hurricane Center still shows Irma making landfall in Florida, but the latest projections then take it towards Georgia, rather than up the East coast as models previously predicted. Now, the hurricane's new possible trajectory — as mapped by the National Hurricane Center — looks like it could take it through the following states:
Florida (arriving as early as Sunday in Southern Florida, and continuing to affect the state through Monday)
Georgia (arriving early Tuesday)
Tennessee (arriving by Wednesday morning)
North and South Carolina (possibly arriving on Monday)
It's still uncertain whether the hurricane will come to affect North and South Carolina on Monday, according to the Weather Channel, since the storm is generally expected to head north through Georgia. Still, experts are warning anyone in the vicinity of Hurricane Irma's expected path to be prepared and keep a close eye on the news.
AccuWeather's preliminary estimates place the amount of damage Irma will wreak on the United States alone at $50 billion to $100 billion. If the eye of the hurricane passes directly over Miami, experts warn, that number could jump even higher.
"Any land within 185 miles of the Irma's center could see damage and any place within 50 to 60 miles of the center could experience catastrophic damage," Dan Kottlowski, a hurricane expert at AccuWeather, said in an article by the same weather site. "Impacts within the projected path of Irma include life-threatening wind, storm surge and flooding rainfall hazards."
If you're anywhere near Irma's expected path, you'll want to make sure you're stocked up on the essentials, aware of your evacuation zone, and have an emergency plan. After that, make sure to keep an eye on updates and follow instructions, because this storm isn't playing around.