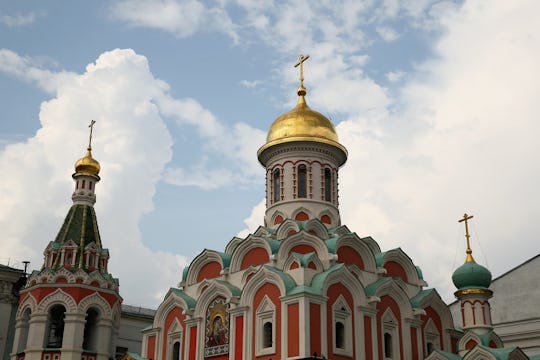 Cameron Spencer/Getty Images Sport/Getty Images
Map Of St. Petersburg Shows Where Explosions Happened
On Monday, reports from Russia stated that two explosions occurred in the city of St. Petersburg, along the city's metro line. A map of St. Petersburg shows the explosions happened in a crowded central section of the city. BBC News reported that at least 10 people were killed in the St. Petersburg Metro explosions, and at least another 50 people injured. Two explosions have been confirmed by the Emergency Situations Ministry in Russia: one occurred at Sennaya Ploshchad station, and the other at Tekhnologicheskiy Institut at around 2:30 p.m. local time. Russian news agency Interfax reported that the explosive devices were filled with shrapnel, including nails.
Update: According to Reuters, there was only one explosion in St. Petersburg despite initial reports, occurring between the Sennaya Ploshchad and Tekhnologicheskiy Institut stations as the train arrived at the latter station.
According to The Moscow Times, a second unexploded device was found and dismantled at St. Petersburg's Ploshchad Vosstaniya station. This station is on the same line as the Tekhnologicheskiy Institut station, where the first bomb exploded. St. Petersburg is Russia's second largest city — after Russia's capital, Moscow — with as many as five million residents.
All metro stations in St. Petersburg have been closed following the explosion as emergency crews continue to evacuate riders. All three affected stations are busy hubs within the St. Petersburg Metro system, located in the center of the city. Both the Sennaya Ploshchad and Tekhnologicheskiy Institut stations are transfer points for multiple lines on the St. Petersburg Metro; there are five total subway lines within the city's metro system. According to website Metrobits, the St. Petersburg Metro ridership is approximately 2.15 million people per day. Across social media, photos from the St. Petersburg Metro explosion show a chaotic, grisly scene as the explosion mangled several subway train cars.
President Vladimir Putin was reportedly in St. Petersburg at the time of the explosion; Putin was in the coastal city to meet with Belarus President Alexander Lukashenko. Putin responded to the St. Petersburg explosion, appearing on Russian state television within an hour of the explosion. While offering condolences to the families of the victims affected by the explosion, he also said terrorism was being considered as a possible factor. Translated into English by Russian state news agency RT, Putin said:
The causes of this event have not been determined yet, so it's too early to talk about [possible causes]. The investigation will show. Certainly, we will consider all variants, common, criminal, first of all, of a terrorist nature.
According to Moscow Metro's official Twitter account, the capitol city transportation service is "ready to provide any assistance" to the St. Petersburg Metro, in a tweet translated from Russian.