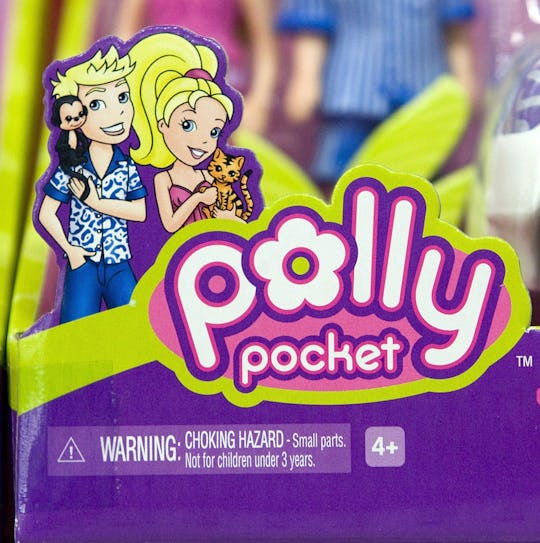 David Paul Morris/Getty Images News/Getty Images
This Polly Pocket Clothing Line Will Have 90s Kids Squealing With Joy
Have you ever rummaged through your closet, which (if movies tell us anything) is presumably full of sparkly gowns and whimsical sundresses, and thought... This needs more Polly Pocket? Of course you have. Because Polly Pocket, the diminutive gal with the killer wardrobe and endless tiny accessories, was everyone's ideal of what we hoped our actual grown-up lives might look like. Complete with portable home and plastic shoes. Well, my darling millennials, it looks like you might get to live your best life after all. Because a new Polly Pocket clothing line is about to drop, and it's going to be spectacular.
Truffle Shuffle, the clothing company every girl turns to when we want to embrace our inner love of pop culture (the name obviously refers to the special, though humiliating dance Chunk performs in the 80's classic The Goonies, just so you know I'm legit), is about to launch a small Polly Pocket clothing line this month. According to their website, The United Kingdom-based company is the place you go when you want to lose yourself in nostalgia.
Whether you're looking for an old school treat for yourself or for a fellow nostalgia fan, you're sure to find a whole host of retro goodies which will make your inner child smile.Our cool tees, retro gifts and accessories are inspired by the best old school TV, movies, music & more!
Harry Potter, Beauty and the Beast, Dr. Who... and now, Polly Pocket.
As of August 11, Polly Pocket vintage tees, hoodies, and tanks will be available for sale in British stores, Topshop and Misguided, as well as online at Amazon.com (and naturally, their own website). Even though the line hasn't launched yet, I'm already planning on nabbing this rolled sleeve tee.
Looking for something sleeveless and pink and delicious? For the low, low price of about $26 (not including shipping and taxes), you can get your hands on this hot little number.
I know what you're thinking... Polly Pocket was all about the accessories. And you're right; what didn't she have? Shoes, swimwear, shift dresses. She clearly had it all. And purses, oh my the purses. Happily, you too can have your own heart-shaped Polly Pocket purse, if you've got $50 to spare.
Fancy carrying this little number on your next night out with the girls? They'll be green with envy... not that it matters or anything.
However you plan to wear your Polly Pocket clothes, I hope you take a minute to remember what it was like to be a little kid. And your mom or whoever would come home with a fresh batch of Polly Pocket accessories, which seemed so impossibly perfect and small. Think of the five or six minutes of fun you would have before you would lose several pieces to the vacuum cleaner, or the couch or the dog.
Savor the kid you were, and the person you get to be now.