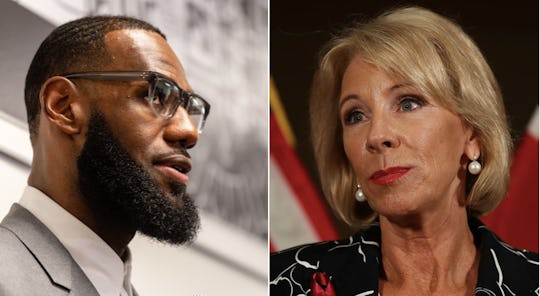 Jason Miller/Getty Images Sport/Getty Images & Joe Raedle/Getty Images News/Getty Images
Thousands Of People Have Signed A Petition For LeBron James To Replace Betsy DeVos
For most of his career, LeBron James has mostly been known for being a basketball player. On account of he's spectacularly good at playing basketball, as far as I know. But in the past week there's been something of a sea change in the way people see the NBA star. These days, he's rightfully being touted as an amazing activist for children's education. So much so, in fact, that a petition for LeBron James to replace Betsy DeVos as Education Secretary already has thousands of signatures.
Romper's request for comment from the Department of Education was not immediately returned.
So why is everyone suddenly so hot for the former star player of the Cleveland Cavaliers (and current Los Angeles Laker) to take over as Education Secretary? Well, it seems as though LeBron James is putting his money where his mouth is when it comes to affecting change in children's education. He recently opened the "I Promise" school in his hometown of Akron, Ohio through the LeBron James Family Foundation and in conjunction with Akron Public Schools. And this isn't just any school either. According to CNN, James said that this school will offer all students:
Free tuition
Free uniforms
Free breakfast and lunch (plus snacks)
Free transportation within a close area
Free bikes and helmets
College tuition for graduates to the University of Akron.
In an interview with CNN's Don Lemon, James explained that he had a vision for this school:
We want every kid who walks through this school to be inspired, to come away with something where they can give back. It doesn't matter, it can be anything. For kids in general, they just want someone to know that someone cares. When they walk through that door, I hope they know that someone cares.
The I Promise School opens this fall for kids in grade three and four (240 children are already enrolled, according to the school website), but plans to open its doors to kids in grades 1 through 8 by 2022. And beyond all of the free programs, James has said that this school is about being part of a family.
The basketball player has gotten a whole lot of praise for this new school, from celebrities and political heavy hitters like Ohio Gov. John Kasich and even First Lady Melania Trump, as Salon reported. But that's not all; apparently people are so impressed with James' work that a petition has been started to see him replace current Education Secretary Betsy DeVos.
The petition was started on The Petition Site by Rebecca G., who was looking for 15,000 signatures to send this request to President Donald Trump; get rid of DeVos and put James in her place, as ABC News reported. The petition asked people to imagine they had the option to choose who would be the education secretary:
The first candidate is famed athlete LeBron James, a highly respected and extremely influential community advocate and activist who recently opened a state-of-the-art public school for at-risk children in Akron, Ohio — with community services on-site like job placement for parents, guaranteed college tuition for every student who graduates, and a score of other student services like a FREE bicycle and helmet.
The petition continued:
The second candidate is Betsy DeVos, a scandal-ridden Republican donor who shows an inexcusable dislike for public education, wants to gut protections for women and minorities, and has advocated for teachers to be armed in schools.
As of Thursday afternoon, the petition has already received more than 14,000 signatures. And while the petition acknowledges that James would be unlikely to give up his "highly successful career" to take on the job, they figured it was "worth a try." It's also pretty unlikely that President Trump would consider this an option, especially since he took aim at James over the weekend on Twitter after the basketball player appeared to be somewhat dismissive of him during a CNN interview, according to The New York Times.
But still; it seems like plenty of people want to see LeBron James playing a bigger role in education. Perhaps because he doesn't just talk about change... he makes change happen.