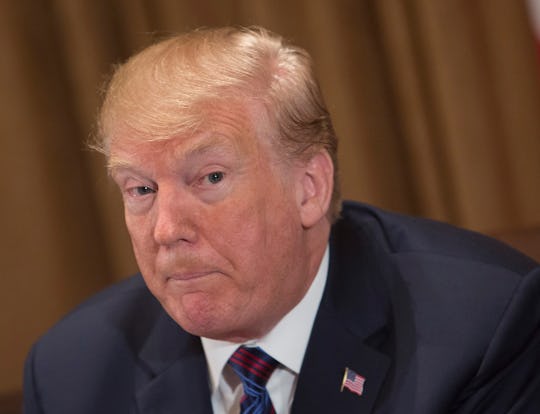 Pool/Getty Images News/Getty Images
A Rumor Says Trump Has A Secret Child & The Alleged Details Will Make Your Head Spin
Not a day has gone by since President Donald Trump won the 2016 election that there hasn't been some sort of scandal surrounding him. Most of these scandals, like the new rumor that Trump has a secret child and allegedly paid off its family, as reported in The New Yorker, have nothing to do with how he actually runs the country. The most recent "scandal" is just that, though it might have some really important implications for the president's legitimacy going forward. Romper's request for comment from the White House was not immediately returned, but a spokesperson for the Trump organization denied the allegation, according to The New Yorker.
According to The New Yorker's Ronan Farrow, a former Trump Tower doorman named Dino Sajudin claims he met with a reporter from the National Enquirer, which is owned by American Media Inc. (AMI owns the National Enquirer, along with Us Weekly, Radar Online, and Soap Opera Digest, among others, which is important to remember as we walk through this together.)
This National Enquirer reporter allegedly met with Sajudin in 2015, when the doorman said that Trump had allegedly fathered a daughter with Trump's former housekeeper. AMI allegedly paid Sajudin $30,000 for the story, and gave him a lie detector test, which he passed, according to Vanity Fair. Still, the National Enquirer ended up never publishing the story. A spokesperson for AMI told Romper it had nothing further to comment than the statements provided.
The New Yorker reported this week that Sajudin declined to comment for its piece. However, according to The Hill, Sajudin said in a statement on Thursday:
Today I awoke to learn that a confidential agreement that I had with AMI (The National Enquirer) with regard to a story about President Trump was leaked to the press. I can confirm that while working at Trump World Tower I was instructed not to criticize President Trump's former housekeeper due to a prior relationship she had with President Trump which produced a child.
"Mr. Sajudin's claims are completely false," the Trump Organization said in a statement," according to the New York Daily News.
Long story short: As the rumors suggests, a former Trump Tower doorman might have taken money to give information about an alleged secret Trump child that has not been confirmed by any news source.
So, What's The Big Deal?
Given the lack of confirmation and sources about Trump's alleged secret child, this would seem like a non-story. And it sort of is, since who cares about a secret child, when there are real things to worry about? However, as The New Yorker reported, the fact that the rumor exists in the first place might show a pattern of behavior from Trump's team that could have implications for his presidency and special counsel Robert Mueller's investigation into his 2016 campaign. Yup, sit back and get that popcorn, folks.
Farrow claims in his New Yorker piece this week that this is yet another example of Trump's team reportedly attempting to silence people that might have not-so-presidential stories to share about Trump's past by allegedly paying off media companies or sources, such as Stormy Daniels, as reported by The New York Times.
Let's back up for a minute, though. This practice of paying sources for scandalous stories is called a "catch and kill" in the media and public relations business, as CNN noted, whether it has to do with Trump or not.
Wait, What Is "Catch & Kill?"
For celebs just trying to hide their pregnancies or divorces, it's not so bad and actually makes sense, in a way. It's another thing when the president allegedly engages in it. "Catch and kill" means that a media outlet (usually a tabloid) pays a source for their story and has them sign a nondisclosure agreement, without ever intending to publish said story, according to NPR. The famous person, or their PR team, "catches" the story, in cahoots with the media outlet, which then "kills" the piece by not publishing it, thanks to some money and legal documents. Got it?
In this case, Farrow is alleging that Trump's team used AMI to go after people that who claim to have less-than-stellar news about Trump, reportedly paid them for their information, had them sign a nondisclosure agreement so that they couldn't talk about it in public, and then never published the stories. AMI said in a public statement on its website Thursday:
AMI categorically denies that Donald Trump or Michael Cohen [Trump's lawyer] had anything to do with its decision not to pursue a story about a "love child" that it determined was not credible. The suggestion that David Pecker [the CEO of AMI] has ever used company funds to "shut down" this or any investigation is not true. In addition, AMI and Mr. Pecker emphatically deny any suggestion that there might have been be any "partnership" created which might influence any business ties in regard to AMI. These claims are reckless, unsubstantiated, and false.
Farrow makes the case in his New Yorker article about this alleged secret child that this is something Trump's team does on the regular to silence people who claim they might know "too much" about the president. For example, in August 2016, AMI allegedly paid Karen McDougal, a former Playboy model, $150,000 for her story about an alleged affair with Trump and then never published it, according to USA Today.
So, What Does That Have To Do With Anything?
Although it wasn't with AMI, Stormy Daniels was also allegedly paid by Trump's personal attorney to not talk about an alleged sexual encounter she had with Trump, and reportedly signed an NDA with In Touch Weekly (which is owned by Bauer Publishing and not AMI) back in 2011, according to CNN. According to CNN, Trump has denied these allegations. Different publications, but the same sort of "catch and kill" techniques were allegedly in play. Both McDougal and Daniels are reportedly working to get out of their respective nondisclosure agreements with Trump's and AMI's legal teams at the moment, as NPR reported.
So, even though there is no confirmation that Trump has a secret child or that any of these alleged affairs took place, there is some evidence that Trump's legal teams might have engaged in "catch and kill" practices, as CBS News noted, which, Farrow alleges, speaks to the president's integrity. That's up to every voter to decide.
This Is What Interests The FBI.
The New York Times reported on Wednesday that federal investigators are looking into connections between Trump's lawyer, Michael Cohen, and the owners and editors of AMI's publications to establish a pattern of behavior that might bleed into the FBI's investigation of Trump's campaign team allegedly colluding with Russian officials.
It's a lot to take in, right? The bottom line, really, is that it doesn't matter on any level if the president has an alleged secret child or had secret affairs with other women. That's his personal business, alleged or not. What might matter, and could become important going forward, is that the president's team has a reported reputation of allegedly covering things up, which the FBI has apparently noted in its investigation of the president and his team, as evidenced by the agency's raid on Cohen's office this week, according to Vox.
For the first time ever, tabloid headlines and news headlines about the president might be equally important.