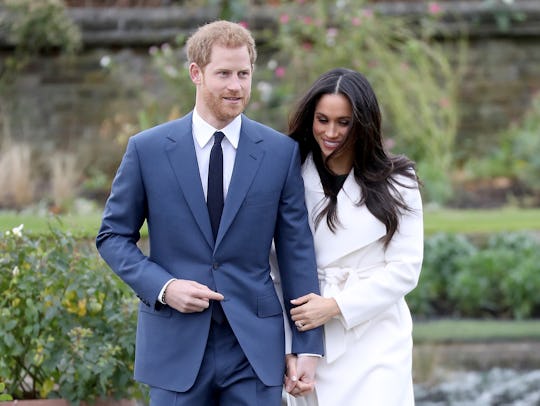 Chris Jackson/Getty Images Entertainment/Getty Images
A School In Britain Held A Mini Royal Wedding, So Prepare To Melt
Let's face it: everyone has royal wedding fever. Even people who aren't big royal watchers and don't really know a thing about Meghan Markle or Prince Harry can't help but get swept up in the excitement. Not even kids are immune, apparently. In preparation for the big event on Saturday at St. George's Chapel, a school in Britain held a mini royal wedding full of children dressed like tiny royals. And if the actual royal wedding is half as good as this adorable bit of theater, we're all in for a treat.
Students at Queensmead School in Windsor, England (the town where the actual royal wedding will be taking place on Saturday, coincidentally) put together a wedding parade and walked along Windsor Great Park's Long Walk toward Windsor Castle. And if that fact isn't cute enough for you, brace yourself for this little tidbit: there were actual child versions of Prince Harry and Meghan Markle. Tiny Prince Harry was dressed in military garb, while the child version of Meghan Markle carried a bridal bouquet of white roses and wore a tiara. And okay, obsessive royal watchers might point out that Markle is planning to carry posies in her bouquet because they're her favorite flowers. But still, the whole thing was pretty damn cute.
So cute that Kensington Palace shared footage of the mini royal wedding on its Twitter page:
If that's not cute enough for you, please take a moment right now to check out the little version of the Archbishop of Canterbury, who will be officiating at the royal wedding on Saturday.
I don't even know what to do with all of this joy, to be honest. After a long week of drama surrounding the royal wedding, watching the mini royal wedding parade of primary school children was a great way to pull the attention back to the task at hand: a wedding in a chapel in a castle in England. Where women will wear fascinators and men will wear whatever it is that fancy men wear to British royal weddings, and an American actress will become a British princess. No matter who walks her down the aisle, the day is about Meghan Markle and Prince Harry and will hopefully be filled with buckets of happiness. Just like the kind you get when you see a bunch of schoolchildren dressed up as royalty in a mini parade.
And just in case you weren't excited enough about the mini royal wedding... it looks like this was quite a theme at schools across England this week.
It seemed fitting for children to put on a mini royal wedding on Wednesday, the very same day that Kensington Palace announced the bridesmaids and page boys who would make up the royal wedding party for Prince Harry and Meghan. Unlike an American wedding where bridesmaids tend to be adult friends of the bride, royal weddings use young teenagers or children to fill out the bridal party. This time around, the wedding party will be young kids like Prince Harry's niece and nephew, 3-year-old Princess Charlotte and 4-year-old Prince George. This has its advantages and disadvantages, I suppose. On one hand, your wedding party probably won't throw you a killer bachelorette party. On the other, you shouldn't have to worry about a bridesmaid drinking too much wine at the reception. But watch out for those cookies!
It will be interesting to see how the royal wedding works out with so many children in the bridal party. I suppose we can look to this mini royal wedding as something of a rehearsal. And if the children in Meghan Markle's wedding party are as well-behaved as the tiny Archbishop of Canterbury, it should be smooth sailing.