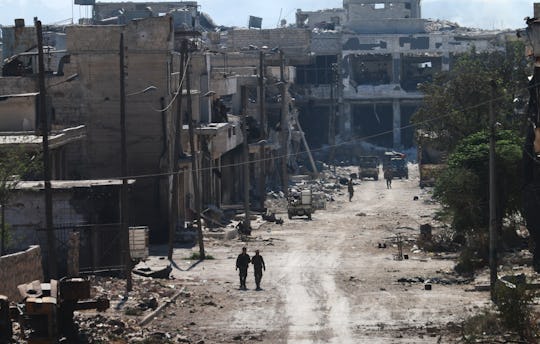 GEORGE OURFALIAN/AFP/Getty Images
A Syrian Girl Who Tweets From Aleppo Lost Her Home To Bombing, & It's Heartbreaking
The scale of the devastation caused by the civil war that has been raging in Syria for more than five years is undeniable. Over the weekend, ground assaults launched by the country's government to retake the besieged city of Aleppo from rebels only ballooned the macabre statistics of the conflict that has already killed hundreds of thousands of people and displaced millions: Nearly 10,000 more civilians forced to flee amid bombings, 250,000 still trapped in the eastern part of the city without supplies. Since the end of September, the plight of one 7-year-old there has put a human face to the onslaught of anonymous suffering the world sees, and we learned through social media that Bana Alabed, the Syrian girl who tweets from Aleppo, has lost her home to bombing, too.
After the latest round of bombardments, United Nations spokesperson Scott Craig summed up the horror: "The situation on the ground in eastern Aleppo is almost beyond the imagination of those of us who are not there," he told BBC News.
Which, honestly, makes it too easy to ignore for those of us a half a world away and feeling a debilitating sense of helplessness. That's why it's so visceral (and achingly necessary) for all of us to read the tweets posted to the account run by Bana's mother, Fatemah, on Sunday: "Tonight we have no house, it's bombed & I got in rubble," one reads. "I saw deaths and I almost died. - Bana #Aleppo"
The photo of a dust-covered, shocked, but heartbreakingly resigned-looking Bana represents not just her individual turmoil, but also that of the estimated 100,000 children withstanding attacks in eastern Aleppo. United Nations Secretary-General Ban Ki-moon recently described the situation that these children and their families endure in Aleppo. "Imagine the destruction," he said in a September speech, according to ABC News:
People with limbs blown off. Children in terrible pain with no relief. Infected. Suffering. Dying, with nowhere to go and no end in sight. Imagine a slaughterhouse. This is worse. Even a slaughterhouse is more humane. Hospitals, clinics, ambulances and medical staff in Aleppo are under attack around the clock.
And, along with her mother, Bana has showed the world through Twitter what these types of inhumane conditions can do to a family, as well as how children can remain children despite it all. Since the pair started tweeting Sept. 24, they've chronicled unthinkable tragedies, like the death of Bana's friend in the fighting and visions of the destruction of homes. They've even live tweeted bombings happening so close to them that they have no reason to feel confidence in their own safety. Still, Bana is still a young girl, so the account occasionally features her engaging in some escapism, such as reading a Harry Potter e-book that author J.K. Rowling sent her.
But the family couldn't escape reality of the war.
As the Syrian army advanced over the weekend and recaptured six key districts in the city — a major victory for supporters of Syrian President Bashar al-Assad — Bana and her family lost their home, and her mother was apparently convinced they were all about to die. "Last message - under heavy bombardments now, can't be alive anymore," she tweeted at one point from the account. "When we die, keep talking for 200,000 still inside. BYE."
Then, the news that the home had been destroyed. Soon after, they had no choice but to flee for their lives.
Neither Bana nor her mother has tweeted since. The war in Syria is as relentless as ever.