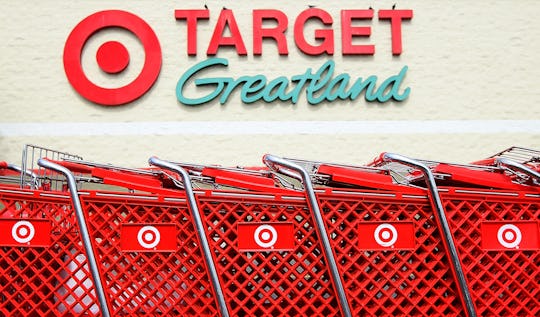 Justin Sullivan/Getty Images News/Getty Images
A Target Gift Card Scam Is Making Rounds On Facebook & Here's What You Need To Know
As tempting as a free Target gift card might be, remember that when something sounds too good to be true, it usually is. So if you see anything about a free Target gift while browsing Facebook this week, you'll want to remember just that. As Good Housekeeping reported, there is a Target gift card scam making its way around Facebook right now and here's everything you need to know.
The scam is a Facebook post that has been going around, masquerading as an innocent offer of a free gift card. "Howdy friends. Send TARGET to 83361 and get a free Target gift card. Just got one," reads one such caption, alongside a photo of a grocery haul, according to reports from Snopes and Good Housekeeping. Target did not immediately respond to Romper's request for comment regarding the scam.
So if someone actually sends that text message, what will happen? This scam is a "smishing" scam, as Good Housekeeping explained. And despite the silly name (it's a combination of SMS and phishing), smishing is actually quite serious.
After someone sends the text, the scammer will likely reply with a link, according to IDTheftInfo. The link will typically lead people to a page where they are prompted to type in personal information, like their credit card number or social security number.
After someone sends the initial text message, the scammer may have a variety of motives, as Jason Hong, a professor at Carnegie Mellon University told Fortune. They may be trying to hack into a person's bank account, steal their identity, or blackmail them into sharing private information. For so long, scammers have conducted their work through email — so why the sudden shift to text message? Hong explained to Fortune:
That's where the money is ... People are getting more suspicious of emails. Companies like Google and Yahoo are getting better at detecting fake accounts and shutting them down. So the next easiest thing for [a scammer] to do is to go to mobile.
So how can people make sure not to fall victim to smishing scams like this one? For one thing, if a link sent to you for a major store's promotion does not bring you to the store's official website, steer clear, as IDTheftInfo advised. Additionally — and this should really go without saying — your social security number, credit card number, and other private information would never need to be provided for any real free gift card contest. You should only ever enter private data on secure websites (those with "https" in the URL).
Furthermore, try not to enter any contests that require you to provide your cell phone number, according to USA Today. And finally, when (or if) you look over your credit card statement and cell phone bill every month, look through each charge to make sure nothing seems fishy, USA Today added.
There isn't much information on exactly what the scammers behind this Target scam are after. Rather, the scammer(s) probably realized how much people love Target and decided to target Facebook users by dangling a Target gift card in front of them.
In fact, Target's website has an entire page devoted to helping customers avoid gift card fraud. "Don't click on or respond to online ads or websites offering free gift cards. These are often scams," reads one piece of advice. Well, there it is straight from the source, folks. Really, the only way to get a free Target gift card is if a dear friend gives you one as a present — so if your birthday is sometime soon, now would be a great time to start dropping hints.