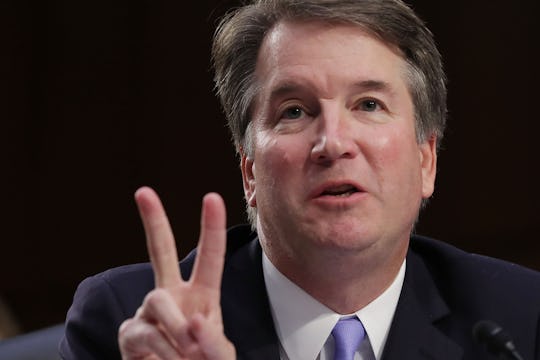 Chip Somodevilla/Getty Images News/Getty Images
A Third Woman Has Come Forward Accusing Brett Kavanaugh Of Sexual Assault
Dr. Christine Blaisey Ford has been forced to go into hiding since she first accused Supreme Court justice nominee Brett Kavanaugh of sexually assaulting her when the two were in high school together. Her children are reportedly staying at a different undisclosed location to keep them safe after the family had to suffer through death threats. Let that sink in for a minute, how brave she had to be to come forward. And how brave any subsequent accusers would have to be to go public after knowing what was coming. Now, a third woman has accused Brett Kavanaugh of sexual assault, and the massive amount of courage it must have taken for her to come forward is quite simply remarkable.
Romper has reached out to the White House and Brett Kavanaugh for comment regarding these allegations and is waiting on a reply.
Attorney Michael Avenatti took to Twitter on Wednesday to share the identity of his client Julie Swetnick, the woman who claims Kavanaugh and one of his friends, a man named Mark Judge, participated in a harrowing sexual assault on her that took place at a party in Washington D.C. during the 1980's. Before you read her account please know that this accusation is disturbing and could trigger people who have experienced trauma in their own lives.
According to Avenatti, Swetnick alleges that a group of boys in high school (which allegedly included both Kavanaugh and Judge) worked together "to cause girls to become inebriated and disoriented so they could then be gang raped in a side room or bedroom by a train of numerous boys." She was sadly one of those girls, and Swetnick contends that she was given "Quaaludes or something similar" to incapacitate her and take away her ability to consent, as per her statement shared by USA Today:
I have a firm recollection of seeing boys lined up outside rooms at many of these parties waiting for their 'turn' with a girl inside the room. These boys included Mark Judge and Brett Kavanaugh.
Swetnick alleges that, while Brett Kavanaugh did not actively participate in her rape, he stood by and observed. She also noted that his type of planned gang rape by high school boys at parties was quite commonplace at the time. Dr. Blaisey's accusation that Kavanaugh tried to assault her would have been around the same period of time, in the early 1980's. The second accuser, Deborah Ramirez, alleges that Kavanaugh exposed himself to her during a drinking game while the two were students at Yale University, according to USA Today.
Kavanaugh has denied all claims of sexual misconduct to date. All three women who have come forward with accusations of sexual misconduct against Brett Kavanaugh have said they are willing to testify.
These women need to be heard, and Kavanaugh needs to be held to a standard he set for President Clinton during his impeachment trial in 1998. At the time, Kavanaugh wrote in a memo to his boss, prosecutor Kenneth Star, according to the Daily Beast:
After reflecting this evening. I am strongly opposed to giving the President any 'break' in the questioning regarding the details of the Lewinsky relationship… I have tried hard to bend over backwards and to be fair to him and to think of all reasonable defenses to his pattern of behavior. In the end, I am convinced that there really are none. The idea of going easy on him at the questioning is thus abhorrent to me.
Brett Kavanaugh can no longer just deny these claims and move forward with his confirmation hearing as though they never happened. He needs to be held accountable for these accusations, and all three of these women need to be allowed to tell their own story.
Because coming forward was probably the hardest thing any of them have ever had to do.
If you're a victim of sexual assault and need help, contact the National Sexual Assault Telephone Hotline at 800.656.HOPE to be connected with a trained staff member from a sexual assault service provider in your area. You are not alone.