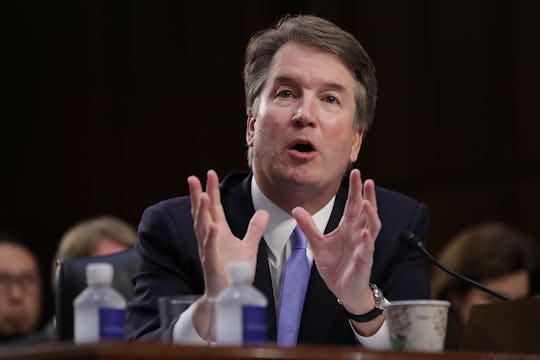 Chip Somodevilla/Getty Images News/Getty Images
A Trump Supporter Told A Reporter Groping Is "No Big Deal" In Front Of Her Daughters On Live TV
Today's political landscape sometimes reads like one big joke, except today's news is no laughing matter. In fact, it's infuriating to mothers, daughters, women, and parents in general. As HuffPost reported on Wednesday, a Trump supporter can be seen telling a reporter that groping is "no big deal" in front of her teenage daughters during a live TV interview.
The woman in the clip is referring to Professor Christine Blasey Ford's accusation against President Donald Trump's Supreme Court nominee, Brett Kavanaugh. According to CNBC, Professor Ford alleged earlier this month that when the two were in high school, Kavanaugh put his hand over her mouth, held her down, and groped her. "I thought he might inadvertently kill me. He was trying to attack me and remove my clothing," Ford told The Washington Post of the alleged incident.
As Trump's SCOTUS nominee, Kavanaugh continues to be the subject of several sexual assault allegations. As of Wednesday, three women have come forward, according to CNN. Kavanaugh has staunchly denied all allegations, according to the New York Post, saying in a statement: "I have never sexually assaulted anyone — not in high school, not in college, not ever."
Despite the allegations against the SCOTUS nominee, the mother in the video — reportedly from Bozeman, Montana, according to HuffPost — seems to stand by her remarks and support for Kavanaugh. In an interview with MSNBC, the woman in the video tells the reporter:
Groping a woman? At 18? I mean, how many guys do you know who think that's no big deal?
In the video of the interview shared on Twitter, the teenage daughters can be seen, on camera, nodding in agreement as their mother reiterated, "It's not a big deal."
For the record, groping is a violation and illegal without consent, according to Rewire.News. So yes, groping is, in fact, a big deal.
The woman in the video goes on to tell MSNBC that even if the allegations against Kavanaugh turn out to be true, it "doesn't take away from his character and his job to do what he needs to do as a Supreme Court nominee."
As one can imagine, the backlash has been intense, with many on Twitter expressing their outrage.
There's a common theme here that dates back to the 90s. People are still dismissing sexual assault victims and lessening the importance of their testimony. Did America learn anything from Anita Hill and her accusations of then Supreme Court nominee Clarence Thomas? He still denies the claims today as he sits on the Supreme Court, according to NPR, and Hill's accusations did not dissuade the Senate from approving his nomination.
Even Trump has commented on the allegations against Kavanaugh, and specifically referred to Ford's claims in a recent tweet. "I have no doubt that, if the attack on Dr. Ford was as bad as she says, charges would have been immediately filed with local Law Enforcement Authorities by either her or her loving parents. I ask that she bring those filings forward so that we can learn date, time, and place!," the president tweeted on Sept. 21.
No matter how long ago an incident happened, there are many reasons why sexual assault and harassment survivors would delay reporting their perpetrators, according to Licensed Marriage and Family Therapist, Beverly Engel in an article for Psychology Today. Shame, denial, fear, and low self-esteem and lack of resources are all high on the list, as Engel explained to Psychology Today:
Instead of focusing so much energy on trying to figure out why victims don't report, it would be far more productive to ask, "Why do we allow men to continue to sexually harass and assault women?" Perhaps even more important, we need to stop asking why victims wait to report and instead focus on how we can better support victims in their quest for justice and healing.
The public is still waiting to see if these allegations will have an effect on the Senate's vote to approve Kavanaugh's confirmation to the Supreme Court, which is expected to take place this Friday, Sept. 28, according to TIME. Ford is expected to testify in front of the Senate Judiciary Committee this Thursday, according to Mother Jones.
If the Senate dismisses her allegations and moves forward with the vote to elect Kavanaugh to the Supreme Court, one has to wonder what that say about our society? It seems to send a message to women about where they stand in all of this and that their bravery is for naught.
As for the mother who told her children, and viewers across America, that groping was no big deal, let's hope that Ford's testimony on Thursday, and the women who have come since forward, help to educate her and others about why this is very much a big deal — no matter where you stand politically.